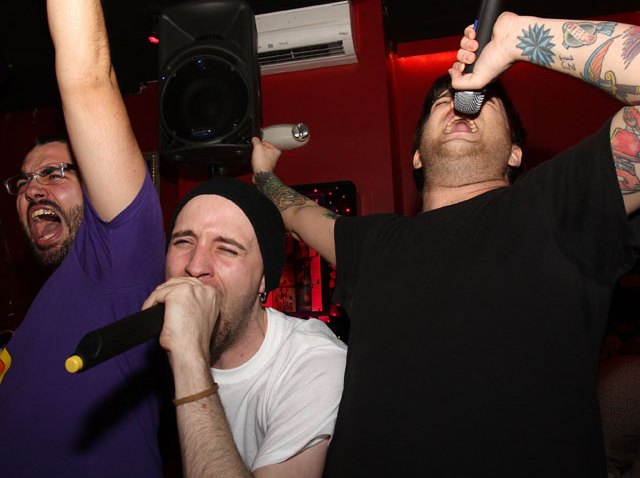 After reading this pretty sweet writeup in Urban Daddy, we were soooo looking forward to checking into Blue Frog 22 to play old-school games and sing karaoke-style to the likes of Beyonce, Cher and David Bowie.

But alas, it's not happening until next week.

Like most new bars anxiously waiting to open, there's likely a liquor license situation holding them up, so in the meantime we're gonna go elsewhere for fun.

We could easily head to the original Blue Frog, located only a few blocks away in River North. It's a lot smaller (quite tight, actually), dive-ier and the retro games (everything from Connect Four to Uno) are pretty much in disarray with essential pieces missing.

Or, we can make our way to a number of other fun spots around the city for a night of singing joyously off-key.

The guys behind the powerhouse Live Band Karaoke can be found performing five nights a week at bars all over town. They have a massive catalog of music, which ranges from heavy metal to hip-hop.

If you can manage to hold on to your seats long after brunch is over (Yay! for day drinking!) at Stanley's, you're in for a treat every Sunday. This is the one that gets long-ass lines down the street, particularly if Monday's a holiday. It's also attracted a long list of celebs, including Michael Jordan, David Beckham and Dennis Rodman.

Other spots you can catch the band are Reggie's (10pm Wednesday; drink and food specials), Faith & Whiskey (10:30pm Thursday; drink specials) and Piece (11pm Saturday).

Trivia competitions. Darts. And, of course, karaoke is what you'll find at Hidden Cove in Lincoln Square. There's no regular schedule here, just pick out your songs and sing.

If you're feeling a little shy about standing up and singing in a roomful of strangers, have no fear, the mic comes to you at Louie's Pub. The bar's a little scruffy and they only take cash, but it's loads of fun. Karaoke every night at 9pm except Monday because that's when it's closed.

Not all karaoke bars are kitschy or dive-y as proven by Streeterville's Asian-themed lounge, Murasaki. But if you want a higher-end place to hang, it's gonna cost ya. Get your buddies to pitch in for one of their karaoke rooms where you can sing in style. It's $100 an hour and holds up to 16 guests. Bottle service also available.

And since it's prime time for Cubs season, it makes sense to head over to Trader Todd's after the game. Karaoke's free seven nights a week, and if you hit them up 5-8pm Friday, you can take advantage of the "shrimp boil" for all-you-can-eat shrimp (with potatoes and cole slaw) for $6.95. The show goes on until the bar closes.

Audarshia Townsend is the creator of the local food blog 312DiningDiva.com. She also provides content for Dining Chicago and Playboy.com.