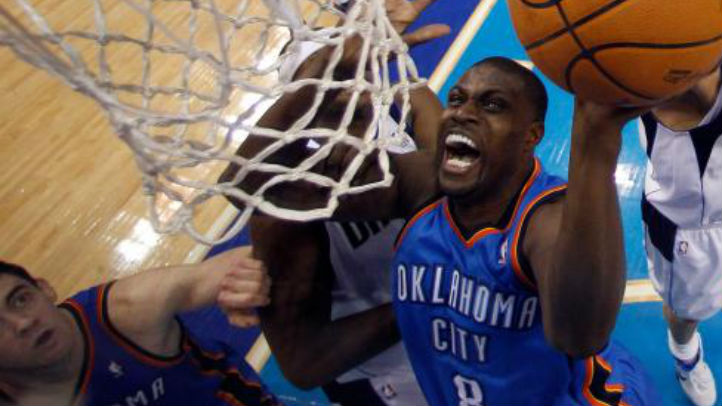 The Oklahoma City Thunder heads to the United Center Tuesday night, and it goes without saying the Chicago Bulls will have their hands full trying to contain the explosive offensive combo of Kevin Durant and Russell Westbrook. The two superstars helped OKC get to the NBA Finals last season where they were defeated by the Miami Heat in five games.
The disappointment of coming so close to the ultimate goal and failing is a feeling that still lingers with players on the Thunder squad and also with a current member of the Bulls.
Nazr Mohammed won an NBA Championship with San Antonio in 2005, starting every game at center throughout the playoffs and making a huge impact for the Spurs. But seven years later he would find himself as a spectator wearing an Oklahoma City uniform, and the loss last June still tastes bitter to the 14-year veteran.
"It hurt. To get that close and lose it when you have a lot of confidence in your team and you feel that you shouldn't have lost the way you lost – and in my case, not getting a chance to play as much I wanted in that Finals series – it fueled me this summer and I'm pissed," Mohammed told NBC Chicago after Friday night's victory over the Minnesota Timberwolves.
Mohammed appeared in just eight games for Oklahoma City in last year's playoffs, averaging 2.3 points and two rebounds. But he didn't play a single minute in the finals as head coach Scott Brooks went with an eight-man rotation and his first (and only) big man off the bench was Nick Collison.
"We had a chance. It was right there and we had a great team. I just wanted to get out there and help, I wanted to get out there and help win it because I could just taste it. And to not get it, it hurts. It still hurts. But it is what it is. You've just got to bottle that up and use it for the next opportunity, and if I get another opportunity, I'm taking it."
Mohammed's thirst for another title comes from an understanding that his legacy in the NBA won't be based on being one of the greatest big men to ever play, it'll be based solely on winning.
"A lot of guys got one [NBA Championship], but there's not a lot of guys that have two, or three – multiple championships. A guy like me will only be remembered for winning. My numbers aren't going to be astronomical. It's going to be just average numbers and I'm only going to be remembered for winning games. So I want another championship."