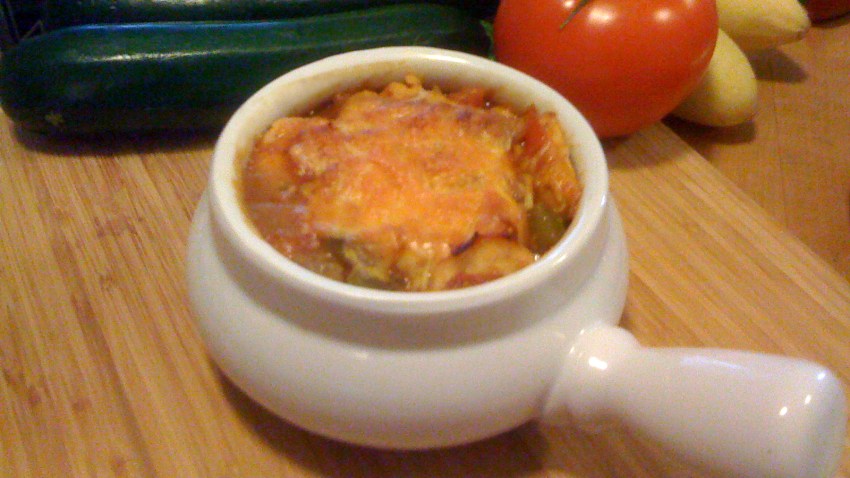 Whether you are cooking for a crowd or just for yourself, a meal should be special. So, with a few suggestions and ideas from some of my Facebook friends, here are some special meals just for one. These are single serving recipes that are big on flavor and small on the number and volume of ingredients. Because these dishes use a variety of fresh produce, feel free to substitute other items that suit your taste. After all, this meal is just for you!

Southwest Chicken Casserole For One

Ingredients

1 small Chicken Breast (about 4oz), cubed into 1" pieces
1/4 tsp Salt
1/4 tsp Pepper
1 tsp Olive Oil
1/3 cu Chopped Onion
1/3 cu Chopped Green Pepper
1 glove Garlic, crushed and chopped
1/2 tsp Chili Powder
1/2 tsp Lemon Pepper
1 lg Tomato, chopped reserving about 1 tablespoon for garnish
1 tbl Green Chilies (from a can)
1/4 cu Chicken Stock (or mix 1/4 tsp chicken base into 1/4 cu water)
1 Corn Tortilla, torn into 1" pieces
1/4 cu Shredded Cheddar Cheese
Jalapeño Slices, optional for garnish

Small Oven Safe Baking Dish (2 cup size)

Method

Preheat oven to 350 degrees F. Heat olive oil in a small saucepan over medium high heat. Season chicken with salt and pepper and sauté it in the saucepan until pieces are opaque on all sides, about 5 minutes. Remove chicken from pan and add onion, garlic and pepper. Reduce heat to medium and sauté vegetables until tender, about 5-7 minutes. Add chili powder and lemon pepper and sauté for about a minute. Add tomatoes and chilies and sauté for an additional 3 minutes. Add chicken stock and increase heat to bring mixture to a boil. Return chicken to the pot and stir until chicken is heated through, about 3 minutes longer.

Place half of the tortilla pieces in the bottom of the baking dish. Spoon half of the chicken mixture into the dish and top with half of the cheese. Repeat to create another layer. Place baking dish on a baking sheet and bake for 18-20 minutes. Remove from heat and serve garnished with reserved chopped tomato and jalapeños.

Pork Chop With Apples In Brown Sugar

Ingredients

1 Bone In Pork Chop (you can substitute boneless if you prefer)
1/4 tsp Salt
1/4 tsp Pepper
1 tsp Olive Oil
1 Granny Smith Apple, peeled, cored and sliced into wedges
1/2 tbl Butter
2 tsp Brown Sugar
pinch Ground Cloves (about 1/8 tsp)
pinch Ground Cinnamon (about 1/8 tsp)
3/4 cu water
1 tbl Pecans Pieces (or halves)

Method

Preheat oven to warming setting (150 - 200 degrees F.). Mix together brown sugar, cloves, cinnamon and water. Set aside.

Season pork chop on both sides with salt and pepper. Heat olive oil in a saucepan over high heat until very hot. Carefully place pork chop in saucepan and brown it on both sides. Reduce heat to medium high and continue to cook pork chop until cooked through (internal temperature 160 degrees F), about 6 minutes. Transfer pork chop to the oven in an ovenproof pan.

Heat the same saucepan to medium high heat. Add butter and apple slices. Sauté until apples begin to soften, about 5 minutes. Add brown sugar mixture and stir until mixture begins to boil. Continue cooking until mixture has reduced to a syrup consistency. Add pecans and stir to combine. If pan gets too dry, add additional water. Transfer pork chop to a serving plate and pour apple mixture on top.

Stuffed Pepper With Turkey And Squash
suggested by Facebook friend Karen Meyer

Ingredients

1 lg Red Pepper (you can use any color pepper), preferable one that sits rather vertically on its own

Sauce

1 lg Tomato, roughly chopped
1 tsp Brown Sugar
1/2 tsp Worchestershire Sauce
1/4 tsp Dried Oregano
1/4 tsp Dried Thyme
1/4 tsp Salt
1/4 tsp Pepper

Filling

1/4 lb Ground Turkey
1 green onion, chopped, a good portion of green part included
1 tbl Breadcrumbs
2 tbl Mozzarella Cheese
2 tbl Squash, diced
1/4 tsp Dried Thyme
1/4 tsp Dried Oregano
1/2 tsp Fresh Ginger, minced

Method

Using a sharp knife, cut the top of the red pepper off. Reserve the top for garnish if you like. Trim the membranes from the inside of the pepper being careful not to cut through the wall. Place pepper in of an oven proof baking dish and set aside. Preheat oven to 350 degrees F.

Put sauce ingredients into a blender and blend until smooth. Set aside.

Combing filling ingredients and gently fill the cavity of the pepper with the mixture. Pour sauce on top of the pepper and in the bottom of the baking dish. Bake for 45 minutes. Transfer to a serving bowl and carefully pour any excess sauce over the pepper.

Stuffed Portobello Mushroom Caps
suggested by Facebook friend Malissa Lichtenwalter

Ingredients

1 lg Portobello Mushroom Cap
1 tbl Balsamic Vinegar
1/2 tsp Dried Oregano
1/2 tsp Dried Basil
1 stalk Celery, chopped
1 Green Onion, chopped including some green portion
1 sm Carrot, diced (baby carrots work well)
2 tsp Real Bacon Bits
1 tbl Bread Crumbs
2 tsp Olive Oil
1 tbl Shredded Cheese (cheddar or parmesan)
Kaiser Roll, optional (if you'd like to enjoy it as a sandwich),

Method

Sprinkle balsamic vinegar, oregano and basil over mushroom and set aside to marinate.

Sauté celery, green onion and carrots in 1 tsp of olive oil over medium heat until tender, about 4-6 minutes. Toss in bacon bits and breadcrumbs and sauté until bacon and breadcrumbs are a bit crispy. Remove from heat. Spoon mixture into mushroom cap and place cap, filling side up back into pan. Add remaining olive oil and sauté mushroom cap until tender, pressing down with a spatula to help it cook more evenly, for about 5 minutes. Remove from heat and swirl a bit of balsamic vinegar over the mushroom and top with cheese. Serve on a toasted roll or as an entrée with steamed vegetables or a salad.

Thanks again to my Facebook friends for their contributions. If you have any questions or comments, please send me an email at wayne@waynesweekend.com or follow me on facebook.