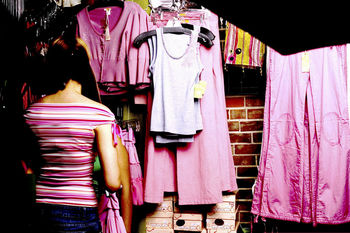 We all probably have some items hiding in our closet that we haven't worn since high school -- or that we are now, sadly, way too old to sport (hello, crop-top). But getting rid of things is such a drag.
Which is why good friends
Lindsay Segal
and Brielle Buchberg decided to do something about it by starting a company that takes the hassle out of selling your upscale goods.
Luxury Garage Sale
literally does it all for you, from coming in and authenticating, pricing, handling the inventory and photographing each item right in the courtesy of your own closet (which means you're not stuffing old duds in garbage bags and dragging them across town to donate them elsewhere). After they take stock of your goods, the gals get to work finding the perfect place to sell your stuff --
eBay
, auction houses, consignment shops, etc, depending on where they think your item will make the most money.
But don't worry, if your stuff doesn't sell, you're not going to be left with a big bill on your hands. Luxury Garage Sale takes 35 percent of the final sales price but wont take a dime from items that don't sell. If your stuff doesn't find a new home, these besties will return the stuff to you, or take if off your hands and donate it to charity.
And now that you have all that room in your closet after cleaning it out, gear up for the first official Luxury Garage Sale on February 12-13 for. From 10:30am-5:30pm, stop in to Galleria Unico to pick up gently used and new designer clothing and accessories.
A percentage of proceeds from the sale will benefit Dress For Success, a non-profit organization that provides interview suits, confidence boosts, and career development to low-income women in over 75 cities worldwide.
Now we'll see if there's a market for that crop top.
Kim Peiffer is the founder of The Glow List, an online magazine dedicated to fitness, beauty, diet, spa and travel.