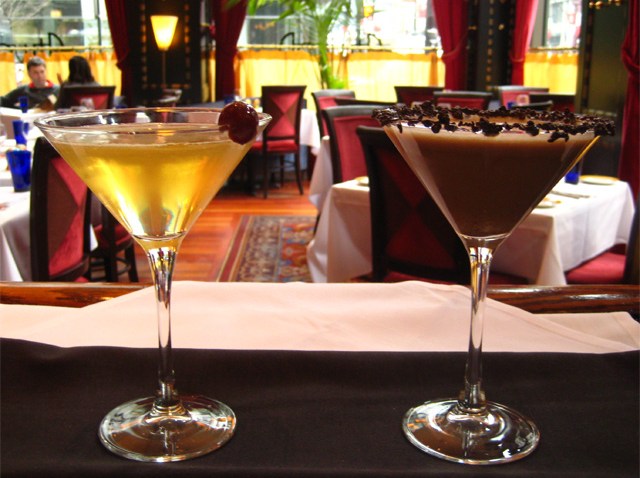 Whether you're wallowing in unrequited love or getting ready to drop to one knee, Chicago is home to world-class restaurants and bars that are serving up cutting-edge concoctions to celebrate Valentines Day.

Steve McDonagh, the cocktail mastermind and co-owner of Hearty (aka the Hearty Boys) in Boystown, has dubbed their Valentine's Day offerings as "stimulating sensations in a glass." The Tuscan French 75 combines Champagne with fennel-infused gin and fresh lemon, while the Bee's Kiss features local honey from Chicago Co-Op in a rich cocktail of gold rum and cream. The Rose Water Sparkler is a refreshing blend of White Flowers sparkling Riesling, rose water and Peychaud's bitters. Each cocktail is $10 and is available February 13–14 with dinner.

For a witty take on a classic cocktail, head to Naha for the Cheeky French Kiss. Effen Black Cherry, DeKuyper Crème de Cassis and sweet pineapple juice are shaken together with a dash of soda to produce a seriously sophisticated and oh-so-chic cocktail. The Pucker-Up, Girl is a Windy City version of the Lynchburg Lemonade made with Jim Beam, Lemonade, DeKuyper Triple Sec and splash of soda. Served up in a classic rocks glass, this is a drink that guys and girls will go gaga over.

The Atwood Café at the beautiful Hotel Burnham will serve up flutes of Veuve for a mere $10. The Montparnasse is a must-try -- made with calvados tequila, St. Germain, vin blanc and a touch of candied apple, along with the Bittersweet -- a melody of godiva dark chocolate, vanilla-infused vodka, bittersweet chocolate sauce served in a chocolate rimmed glass.

Cocktail love is most definitely in the air.

Stephanie Miller is a contributing writing for CheekyChicago.com, wine & spirits writer for Chicago SCENE and pens the local Chicago blog TheStephaniePaige.blogspot.com.