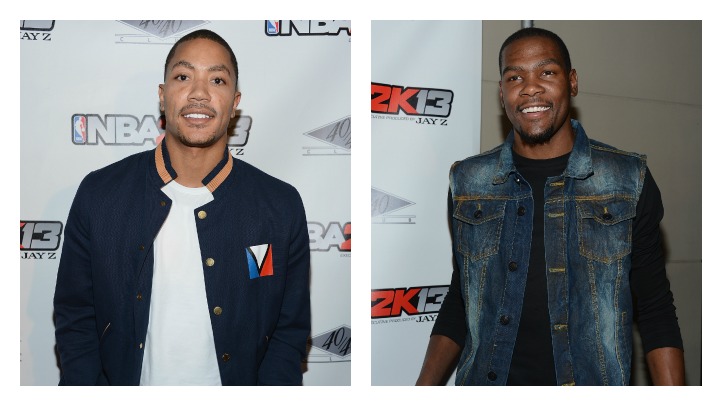 When you talk about the future of the NBA, two of the names that always come up are Derrick Rose and Oklahoma City's Kevin Durant. With each being just 24 years old, the NBA is in good hands with both of these young guys poised to become the faces of the league for the next decade or so.
But while Durant will be fighting this season to make it back to the Finals come June, D. Rose will be fighting to prove that his torn ACL is nothing more than a slight detour on his road to delivering another championship to Chicago and cementing his legacy as one of the best to ever play.
And when the Bulls superstar does return to the court, Durant is confident that Rose will be better than ever.
"I haven't talked to [Derrick], but I know that he's going to get back stronger and better," said Durant prior to Tuesday night's game at the United Center against the Bulls. "I've been praying for him, of course, and watching [The Return] videos online, so I'm sure he's going to have a really nice comeback here for the Bulls and be at full strength.
"I think he'll be better with all of that weight training he's doing and strengthening his body and his core. He's doing everything that he needs to do and like I said, he's going to come back stronger and better."
The two came to know one another two years ago when Team USA participated in the World Championships and have since become "very good friends," according to Durant.
During the summer, Derrick works out a lot with Durant's Oklahoma City teammate, Russell Westbrook. Despite catching a lot of flak for working out with LeBron James in Akron a couple of months ago, Durant is fully aware of how two players who play the same position can aid in each other's development and improvement.
"Those two guys compete against each other every year; every summer. They push each other and you can see that they've gained success over the years because of it. Russell and Derrick have been close friends since they got into the league, so I'm sure they're going to continue to do the same thing [next summer]."