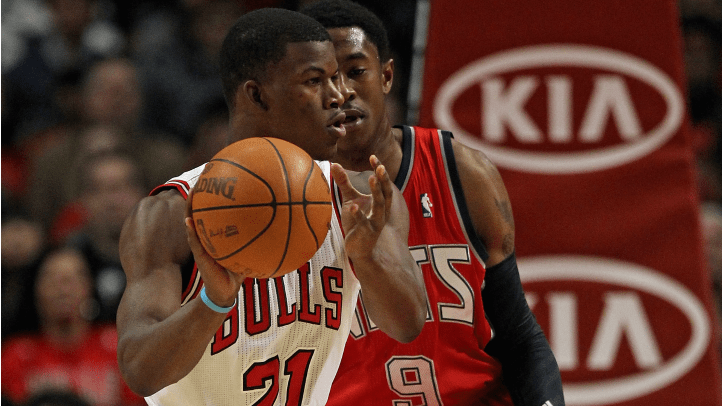 Jimmy Butler sat in his locker, knees wrapped in ice, staring blankly at his iPhone. The Bulls had just dispatched the Milwaukee Bucks in the United Center and while most of the team was pleased with the victory – after losing their previous two preseason games – and getting ready to start their evenings, the second-year swingman from Marquette was in no mood for celebration.
In just over 16 minutes of action on the floor, he scored two points, grabbed four rebounds, dished out three assists, was keenly aware that he'd had virtually no impact on the game and knew exactly why.
"I'm comfortable [in the offense], I just feel like I passed up too many open shots," said Butler to NBC Chicago. "I'm mad at myself. My teammates are mad at me. I've got to shoot the open shot and I'm frustrated on my own behalf."
On several occasions against the Bucks, Butler received the ball coming off a screen and instead of rising up for the jump shot, he would elect to pass it off instead. But he was quick to dismiss the suggestion that he was being tentative, it was simply too much thinking and not enough basketball playing.
"It's not me being tentative; it's just that when I don't look at the rim, I'm not being aggressive which is dumb on my part. I know better. My coaches and teammates keep telling me, I just don't do it. And I know I have to start – I've got to start doing that.
"I'm just overthinking things; not playing basketball. I'm trying to play within the system too much – and of course I don't want to get outside of the system – but when you have an open shot, you always have to take it."
Butler knows he's not looking over his shoulder anymore the moment he makes a mistake, and Tom Thibodeau is giving him an opportunity to play through his errors. But Jimmy Butler is harder on himself than anyone and he knows exactly what he needs to do.
"I know I can make shots, I'm never worried about that. I just know that I have to shoot it in order to make it. I've just got to let it ride."