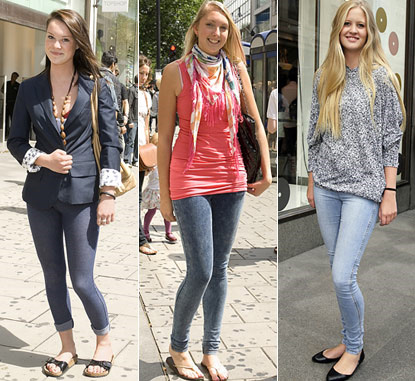 First it was skinny jeans, then it was the high-waisted denim phenomenon that left Jessica Simpson laying off the Twinkies (poor thing). But now, be prepared for a spring season full of a trend they calling, "jeggings.
Jeggings are a combination of jeans and leggings -- the new way to wear denim, and the trend is sprouting up all over stores.
Take a step into Bloomingdales and you'll be bombarded with an assortment of jeggings in nearly every shape, style and fabric. Brands like J Brand and Daddy Long Legs are leading the jeggings trend this Spring, and it's hard to walk into any store without seeing a pair or two prominently on display.
They're like jeans, but stretchy like a pair of leggings, often with no zipper or pockets. In other words, they're for high-risk fashionistas that are confident with their look.
Plenty of indigo-colored plain jeggings are hitting the shelves, but we also noticed a few stand-outs that are definitely a fashion risk. We recently spied a pair of tie-dyed Juicy Couture jeggings and even a pair of acid wash jeggings for those uber-stylish chicas.
But jegging-wearers, beware. It's a hard look to pull off. Even for waiflike creatures that consider a tic-tac their lunch, it's not an easy look to conquer.