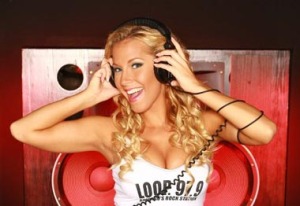 The Loop Rock Girl search is heating up, with the final "Sweet Sixteen" contestants set to appear at the Wrigley Done Right Rooftop tonight for the Chicago Cubs vs. Florida Marlins match-up. The weather, however, has a mind of its own, but if it does hold out, tickets are still available for this unique meet-and-greet with the Rock Girl hopefuls.
The spacious rooftop facility, located just above the right field bleachers on Sheffield Avenue, will host the 16 comely finalists, along with Kelly, the reigning Loop Rock Girl, for this convivial mixer, which starts at 6PM (the game kicks off at 7:05PM, giving you plenty of time to get to know the girls better). Wrigley Done Right spectators will also enjoy all-you-can-manage food and drinks, plus 97.9 The Loop will be handing out an array of giveaways. Not that you'll need the distraction.
The party is presented by MyWrigleyville.com, a social networking site for Cubs fans and neighborhood guide to all things Wrigley, along with the Wrigley Done Right Rooftop, located at 3621-3625 N. Sheffield Ave. All-inclusive tickets are $97.90 each. Get yours pronto -- and pray for clear skies -- by clicking here or calling 847-844-1847.
Copyright FREEL - NBC Local Media