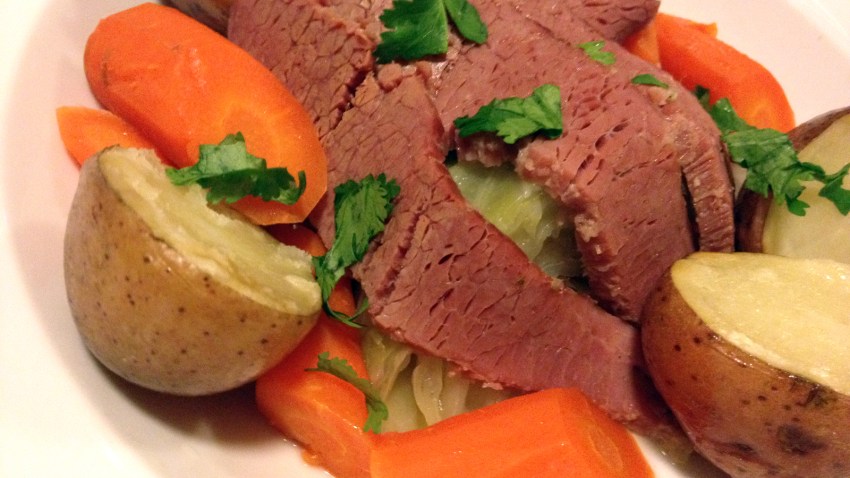 This is the time of year when everybody's a little Irish and everyone's enjoying a plate of corned beef and cabbage. If you are making your own, there are a lot of options to consider.

A tasty corned beef starts with brisket that has been brined for about 7-10 days. If you want to do that step, good for you! But, you can also find corned beef brined and packaged at your favorite butcher or grocery store. Some briskets will be packed in liquid with herbs and spices and others may have an additional packet of spices included in a sealed package. I've used both versions with good results.

Corned beef also will come in three varieties: the "flat", the "point", and a whole brisket that is combination of the two. I personally like the flat, which, as it sounds, is the flat end of the brisket. It's a more consistent size, has less fat, and is great for slicing. Many folks do prefer the point because it traditionally has a bit more fat, and that will definitely add more flavor. You really can't go wrong with either version (or if you're cooking for a large crowd and do the combination).

The key is just letting the oven and the liquid do their job and you'll have a tender corned beef that'll be hit at your St. Patrick's Day dinner or celebration. My addition of Irish whiskey is a toast to the holiday and not a bad flavor enhancer either.

Corned Beef and Cabbage
with carrots and potatoes
serves 6-8 people

Ingredients

1 3-4lb Uncooked Corned Beef (with brining liquid and/or spice packet that came with it)
1 lg Onion, roughly chopped
1 Celery Stalk, roughly chopped, include any top leaves
2 Bay Leaves
2 sprigs of Fresh Rosemary
4 cloves Garlic, peeled and smashed
2 tsp Green Peppercorns
1/4 cu Irish whiskey (optional)
1 1/2 tbl Olive Oil
1 1/2 lb Red Potatoes, halved (or quartered if they are large)
1 1/2 lb Carrots, peeled and cut into 2" pieces (cut on the diagonal)
1 head Cabbage, cut into 8 wedges, including the core
1/4 cu Flat Leaf Parsley, chopped, for garnish
Horseradish (for serving)
Spicy Mustard (for serving)

Method

Preheat oven to 300 degrees. Place corned beef, fat side up, and any liquid in its package in a dutch oven or large oven proof casserole with a top. If a separate spice pack was included, open it and pour it into the pan. Add the onion, celery, bay leaves, 1 sprig of rosemary, garlic, peppercorns and whiskey. Pour hot water (from the tap is fine) to just below the top surface of the corned beef so just a bit is exposed. Cover the Dutch oven tightly with aluminum and place the top over the aluminum. Place in the oven for 3 1/2 hours.

After corned beef has been in the oven 3 hours, toss the potatoes in olive oil and place them in a separate baking dish. Pull the leaves off the remaining sprig of rosemary and sprinkle on top. Place dish in the oven along side corned beef and roast the potatoes for an hour (which will be an additional 30 minutes after you remove the corned beef) stirring occasionally.

After corned beef has been in the oven for 3 1/2 hours, remove the Dutch oven and transfer the corned beef to a work surface or cutting board. Tent it with aluminum and allow it to rest. Strain the liquid (or skim off the vegetables) and put it back in the Dutch oven. Place it on the stovetop over a medium heat. Add the carrots and cabbage, cover and simmer for 20-25 minutes or until vegetables tender. Transfer vegetables to a serving platter. Remove the potatoes from the oven and carefully drop them in the liquid for about a minute and add to the serving platter.

Scrape any surface fat off of the corned beef and slice. Add the slices to the platter. Ladle a bit of the liquid over the meat and vegetables. Sprinkle the parsley on top. Serve everything with a side of horseradish and mustard.

If you have any questions or comments, please send me an email at wayne@waynesweekend.com or follow me on Facebook or Twitter.