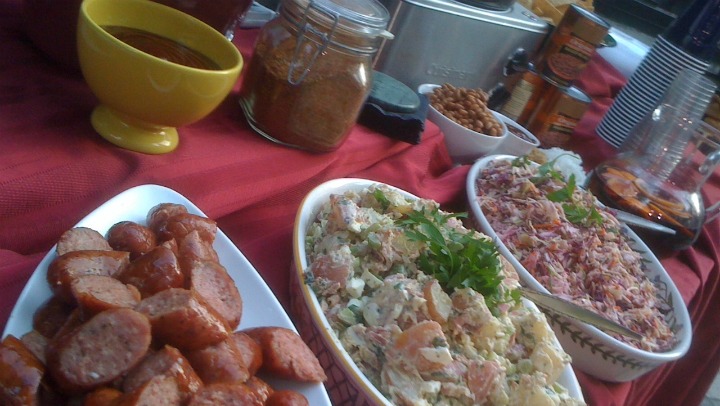 I'm always looking for a good excuse to throw a big party, and an end of summer BBQ is a great reason! It is also a good time to bring together a number of recipes that I've created throughout the summer and offer a up a few tips and suggestions on how to entertain a large number of people. I recently had a backyard party for about 45 friends. My goal was to get as much done as possible before my guests arrived so that I could relax and enjoy everyone's company. I also wanted the party to be as economical as possible so I chose a simple menu that was easy to prepare and relatively inexpensive.

Using my recent party as a guide, here are some suggestions on putting together a large party for about 50 people. These numbers I'm sharing are based on adult guests for an early evening party. There are a number of variables that can affect consumption at any party, like adults versus children, men versus women, afternoon versus evening, etc. Most of the scenarios listed above would take the quantities down a bit from what is described below. But, please use this a general guide and realize you may have to adjust everything a bit based they type of party you are planning and your knowledge of how much your guests generally like to eat.

Make the menu simple and make it in advance

I chose a pretty traditional Texas BBQ menu for my party. I smoked brisket and sausages, prepared potato salad, cole slaw and baked beans. I also made salsa and guacamole for appetizers and cookies and pralines for dessert. I kept drinks to a minimum, with beer, margaritas, sangria and water. I'll talk about the smoker in a moment, but the desserts were made a day in advance and the other items were prepared the morning of the event and simply stored in the refrigerator until ready to serve. The baked beans and BBQ sauce were placed in crockpots about an hour before guests arrived and kept on a low heat. So, basically, everything was done before the party started and I simple place things in serving dishes when I was ready for folks to eat.

A smoker can be a helpful appliance

I love using my smoker for a number of reasons. First, it's an effortless appliance. I have an electric version with a temperature probe. I place items inside and literally let the smoker do its job until the meat is done. A smoker is also great for inexpensive cuts of meat. Briskets, pork shoulders and chuck roasts are much less expensive than steaks (and other individual serving cuts), yet when slow cooked in a smoker, theses larger items can be as tender and flavorful as more expensive cuts. Another benefit of using a smoker is that slow cooked meats can be prepared overnight, then wrapped in aluminum and a towel or two and stored in a cooler for hours before serving. They will still be perfectly warm when you are ready to slice them. That frees up the smoker before guests arrive to put pre-cooked items like sausages, inside to heat them up and to infuse a little extra flavor.

Hamburger is a less expensive option to cooking briskets and roasts. But, there is much more preparation involved, especially during the party, which means you are working rather than enjoying your guests. Plus, the added expense of buns, lettuce, tomatoes, onions, and condiments can outweigh cost savings.

Alter serving sizes for a 'stand and eat' event

For my party, I purchased 25 pounds of brisket. Because of shrinkage, the rule of thumb is to purchase one pound of brisket for every one person. So, 25 pounds will serve about 25 people. Since we are serving 50, I added 25-30 pre-cooked Polish sausages that I reheated in the smoker after the brisket was done. But, I cut each into 4-5 slices after cooking so that guests could take a bit of both the brisket and sausage without having to take a whole link.

Because large parties like this are usually 'stand and eat' events, people usually will eat smaller quantities than a formal sit down meal. Also, because there were three side dishes, I used the following estimates
Potato Salad - one pound of potatoes for every 10 people, so a basic recipe based on 5 lb of potatoes.
Cole Slaw - one head of cabbage (either red or green) for every 25 people. With carrots, apples and a few other ingredients, it makes more than enough slaw.
Baked Beans - one 16-ounce can for every six to seven people, or eight cans. I usually will drain the can of sauce and add a bit of my favorite BBQ sauce, some chopped onions and brown sugar to customize it a bit.

Buying in bulk for all of these items will definitely save money. I was able to get 8-packs of baked beans and 10 pound bags of potatoes at very good prices. The extra potatoes will not go to waste. The ingredients for cole slaw were basically cheap even without volume pricing.

If you are making appetizers and desserts, don't overdo it. Make medium sized quantities of salsas and/or guacamole and provide chips. With a full meal, you don't want your guests to fill up on starters.

For dessert, think about making finger food items, like cookies and/or pralines. For quantities, my rule of thumb is to prepare only about 2 to 2 1/2 items per guest. My experience is that folks are eating less sweets at my parties. Many will skip dessert entirely, and only a small number with 'graze' at the dessert table and over indulge. The rest are happy to just have little taste of dessert.

Encourage your guests to bring the beverages

I always start my parties with a base level of drinks, at least 1-2 beverages of some kind for every guest. But, I always encourage guest to bring additional beverages. It keeps your costs down and most guests always want to bring something. If you have creative folks, like my friend Michael Leahy, you might also get a cooler full of homemade sangria. I don't want to spend time playing bartender, so bottled drinks, like beer, soft drinks and water are perfect. Premixing drinks like non-alcoholic punch, or drinks with alcohol like margaritas or sangria and place pitchers or thermoses near ice and cups allows guests to serve themselves.

Share the leftovers

If I happen to have leftovers at my party, especially desserts, I always encourage my guests to take some home with them. After all the food preparation, include a bit of sampling along the way, I'm happy to have others enjoy the menu for a few days after the event instead of having them in my refrigerator to potentially go to waste.

The bottom line is the more you prepare in advance, the less time you'll spend running around during the party and missing opportunities to social with your guests. A party should be about everyone enjoying themselves, include the host.

Recipes and recipe links

I've featured many of these recipes in the past. Here are links to those as well as a few new ones.

Cole Slaw

Ingredients

2 Granny Smith Apples, shredded
1/4 cu Apple Cider Vinegar
1 head Green Cabbage, shredded
1 head Red Cabbage, shredded
4 lg Carrots, shredded
1 3/4 cu Light Mayonnaise
1/2 cu Sour Cream
2 tbl Dijon Mustard
1 tbl Poppy Seed
1 tbl Celery Salt
1/2 tsp Pepper

Method

Toss shredded apples in Cider Vinegar, then drain and reserve vinegar. Mix apples, cabbages and carrots in a large bowl and set aside. in a separate bowl, mix mayonnaise, sour cream, mustard, poppy seed and reserved vinegar. Add to cabbage mixture and toss to combine. Season with pepper and additional salt to taste. Refrigerate until ready to serve.

Michael's Sangria
courtesy of Michael Leahy

Ingredients

1 Quart of Bing Cherries, pitted
2 Pint of Black Berries, pitted
2 Fresh Oranges, squeeze the juice & add a little pulp
3 Fresh Lines, squeeze the juice
1/2 cup of sugar
2 cups of good quality Rum.
3 to 4 Gallons of a lighter red wine (Michael used wine from Argentina, chilled)

Method

Mix the rum with the fruit and let stand and chill for 24 to 30 hours.

About 2 hours before the party, pour the wine into a large container and add the fruit mixture.

Use 16 ounce plastic cups, fill with 4 to 5 cubs of ice. Use a ladle to pour the sangria into the cup. You want to make sure to stir the sangria before dipping out the wine, so that your guests get some of the fruit. About 2 ladles should do it then add about 2 oz of Club Soda and stir.

Yields about 4 to 5 gallons, depending upon how much red wine you use.

Mom's Texas Pralines
courtesy of Wayne's Mom

Ingredients

2 cu Light Brown Sugar
1/2 cu Evapurtaed Milk
1/2 tbl Butter
16 lg Marshmallows, slightly softened (about 30 seconds in the microwave)
2 cu Pecan Halves
1 tsp Vanilla Extract

Tools

Candy Thermometer

Method

Line 2 cookie sheets with parchment paper or wax paper. Set aside. Put sugar, milk and butter in a large saucepan fitted with a candy thermometer attached to the rim. Bring to a boil and cook to soft boil stage, 240 degrees F. Add marshmallows and stir until combined. Add pecans and vanilla extract and mix well. Immediately spoon mixture by the heaping tablespoons onto the parchment paper. Work quickly so that all the mixture is used and pralines are consistent in texture and shape. Allow pralines to cool at room temperature for 2 hours. You can individually wrap them in cellophane for gifts.

Links

Brisket Recipe: http://www.nbcchicago.com/on-air/as-seen-on/A-Backyard-Smoker-Adds-Flavor-To-Summer-Cooking-123527034.html
Potato Salad: http://www.nbcchicago.com/the-scene/food-drink/A-Warm-Potato-Salad-Makes-Outdoor-Dining-Perfect-122996913.html
Salsa Recipes: http://www.nbcchicago.com/on-air/as-seen-on/Six-Tasty-Salas-From-Spicy-To-Sweet-128364553.html
Guacamole Recipe: http://today.msnbc.msn.com/id/9306071
Coconut and Macadamia Nut Cookies: http://www.nbcchicago.com/on-air/as-seen-on/National-Cookies-Month-Inspires-Gluten-Free-Options-104458999.html

If you have any questions or comments, please send me an email at wayne@waynesweekend.com or follow me on facebook.