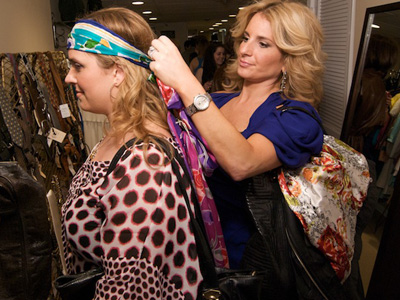 Some people can pull off that perfect vintage look without blinking an eye; others have a little trouble deciding what's good to buy and what's not. We may not be able to afford a stylist, but Sofia Vintage co-owner Ashley Zisook and partner/store buyer Lindsey Madigan have to come the rescue. They share the do's, don'ts and must-haves when it comes to buying, dressing and pulling off the vintage look.
What are some of your tips for the do's and don't of vintage?
1. Look for everyday items (leather jackets, t-shirts, sweaters).
2. Look for evening items / special pieces (something you would wear to a party that no one else would find)
3. Mix and match vintage with modern styles
4. Try it on! Many vintage pieces look very different on the hanger than when you put them on your body!
What's the coolest piece you've found amidst all your travels and experiences?
A Gucci luggage set and a 1972 black Hermes Kelly Bag (the second year this bag was ever produced!)
Why choose vintage? What makes it cool?
When you find that perfect vintage item, no one else will have it; each piece of vintage is one of a kind, it makes you different from everyone else. It's also all about the thrill of the hunt, Zisook and Madigan say. Nothing is more fun than finding that perfect piece; it adds personality to your wardrobe.
Why are celebs loving vintage so much?
Vintage gives them the opportunity to own one of a kind collectibles that no one else will have, which is a rarity. In addition, vintage designer pieces were made with exquisite design and detail that is hard to find elsewhere.
Speaking of celebs, you've had a handful in your store now and again. Who are some of the top contenders?
Nicole Richie, Winona Rider, Leighton Meester, Joe Perry, Cisco Adler, Schwayze, to name a few.
Which celeb would you love to style?
Chloë Sevigny. I think she has amazing style of her own, but dressing her would be an honor.
What are your top three picks for Spring/summer trends?
Ani Lee party dresses; they are feminine, flirty, and have an amazing fit!
M2F Denim.jeans and jean shorts with a flair; they come in cool colors, offer a perfect fit and are so comfortable.
A Winter Kate by Nicole Richie hippie dress…perfect for day or night!
What are your favorite stores in Chi?
1. ENAZ (locations Northfield and Highland Park)
You guys recently relocated your store from Division and Clark to the posh Gold Coast. Why the move to Oak Street?
It's always been a dream of mine! Plus, its easier accessibility for our customers. And who wouldn't want to be on Oak Street!
Where do you find all the things in your store; where are they all from?
The vintage items come from estate sales, auctions, flea markets and consignment. The new items, we go to all the markets in New York, L.A. and Las Vegas to find the newest, most amazing clothing to offer our customers.