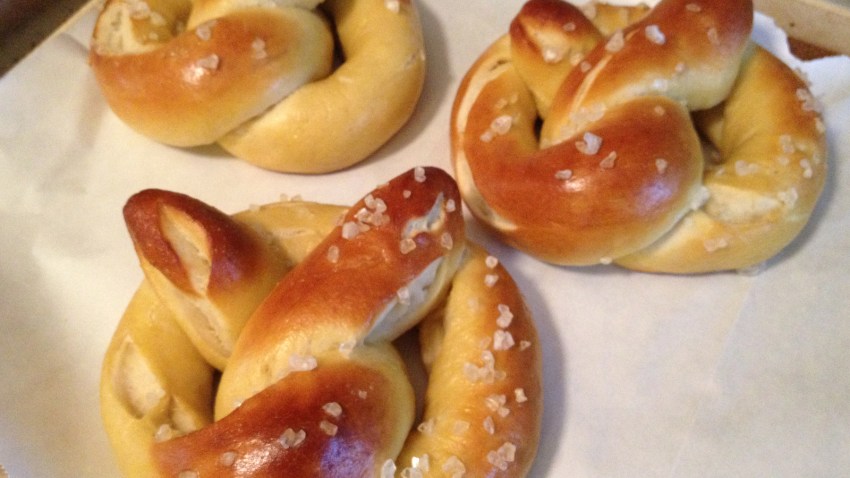 Oktoberfest is a annual festival held in Germany that starts in late September and goes through the first part of October. There are variations of this festival held all over the world and, at the minimum, they often include beer, sausages and pretzels. When I was in college in Austin, Texas, the nearby town of New Braunfels, with its German heritage, always served up their brats on a stick with a bread roll at the bottom to munch on right along with it. So, I decided to have a little Oktoberfest celebration of my own with homemade pretzels and brats served a similar way. All you need is the beverage of your choice, some spicy mustard, and you're good to go.

For my brats, I simply boiled them for about 12-14 minutes and then put them on the grill just for a little color. I picked up dowel rods from my local hardware store and used a pencil sharpener to make a point on one end. Then, I threaded a roll on the bottom and added the brat on top. I also took a piece of scrap melamine (you can use 3/4" plywood) and drilled holes so I could insert multiple dowel rods and make a bit of a serving platter for my brats.

With a cold drink and a variety of mustards to sample with the pretzels and brats, this makes for a fun and tasty party.

Pretzels
perfect for an Oktoberfest celebration

Ingredients

1 pkg Active Dry Yeast (or about 2 1/2 tsp)
2 tbl Light Brown Sugar
4 1/2 cu All Purpose Flour
1 3/4 cu Warm Water (about 110 degrees F)
5 tbl Butter
1 tbl Sea Salt
2 tbl Dry Mustard
5 quarts Water
1/2 cu Baking Soda
1 lg Egg, beaten
2-3 tbl Extra Coarse Salt (or pretzel salt)

extra equipment

Wire Rack
Parchment Paper
2 Baking Sheets

Method

Mix yeast, brown sugar and 2 tablespoons of flour in a medium sized bowl. Gradually stir in 3/4 cup of warm water. Combine thoroughly and let set for 10 minutes as yeast activates.

Separately, mix remaining flour, 1 tablespoon of sea salt and the 2 tablespoons of dry mustard in a large bowl (or mixing bowl of a stand mixer). Melt 4 tablespoons of butter and add to the mixture along with the remaining 1 cup of warm water. Stir to moisten ingredients. Add the yeast mixture and work the mixture to form a dough. Knead the dough for about 10 minutes on a work surface (or, if using a stand mixer, use the dough hook at medium low speed for 5 minutes).

Rub the remaining 1 tablespoon of butter on the bottom and sides of a large bowl. Turn the dough into the bowl and butter all sides. Cover with a towel and let rise for about an hour.

Meanwhile, bring 5 quarts of water to a boil in a large stockpot. Slowly add the 1/2 cup of baking soda in very small amounts (the water will bubble up with each addition so be careful).

Flatten dough slightly and divide into 8 equal portions. Cover portions not being used. With each portion, roll into a 2' long rope. Holding both ends, form a long "U" shape on your work surface. Overlap the ends two times and then lift the ends up and on the top of the "U" to form a pretzel shape. Work the shape a bit until it has a uniform look to it. Put a dab of water under the ends of the pretzels where they tough the top of the "U" to help them stay in place.

Preheat oven to 425 degrees F.

Using a large slotted spoon, gently place one pretzel into the boiling water. Within 30 seconds it should be floating on top. Remove from the water after one minute and place on the wire rack. Repeat with remaining pretzels and be sure to stir the water occasionally so that baking soda is fully blended.

Brush each pretzel with a liberal amount of beaten egg. Sprinkle coarse salt on pretzels. Gently transfer pretzels to a baking sheet lined with parchment or a silicon baking bad. Bake for 15-18 minutes or until deep golden brown. Remove from oven and allow to cool.

Serve pretzels with a variety of mustards, from mild to spicy. Some folks also like them with melted cheese.

If you have any comments or questions, please send me an email at wayne@waynesweekend.com or follow me on Facebook or Twitter.