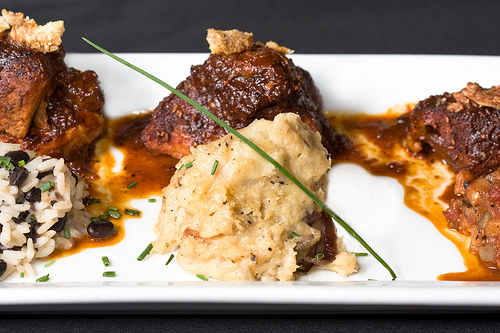 Nacional 27 is like a Latin-accented fiesta throughout the year, and summer is especially steamy. The River North hotspot is the perfect addition to your Memorial Day weekend lineup, especially with new gaucho-style barbecue service, communal party meals and a rocking bar menu to show off.
First, let us explain the gaucho thing, now being offered at this Latin-fusion restaurant. It's Brazilian-style barbecue, with your choice of chimichurri vegetables ($13.95 per person), skirt steak ($16.95), shrimp and scallops ($17.95) or beef tenderloin ($19.95), grilled on 30-inch skewers and served with coco rice, black beans and three salsas. (It's a minimum of two guests, so prepare to share.)
If you've got a larger group, Nacional 27's new party menu features family-style dining for tables of four or more (surely you can rustle up three friends you like enough). You'll get a four-course sharing menu, including a complimentary passion-ginger sangria toast along with tapas, salads, your choice of three entree platters for the table and side dishes for $36.95 per person.
And, finally, if your weekend revolves more around the booze than the food, check out Nacional 27's new bar menu, featuring such tasty tidbits as Latin sliders ($3 each or $14.95 for six) including Cuban (slow-roasted pork, pickles, jalapeno jack cheese, chimichurri slaw and spicy mustard), Sloppy Jose (beef tenderloin, ancho-chipotle steak sauce and crispy onions) and fish (pan-seared grouper, tomatillo salsa, lettuce and garlic aioli) variations; steak nachos ($4.95 per person) and Nacional 27's signature ceviche sampler ($10.95 per person). Pair these with master mixologist Adam Seger's top-notch cocktails, and you've got yourself a soiree.
Oh, and did we mention DJs spin Latin beats all weekend? Let your friend's deck party try to top that.
Copyright FREEL - NBC Local Media