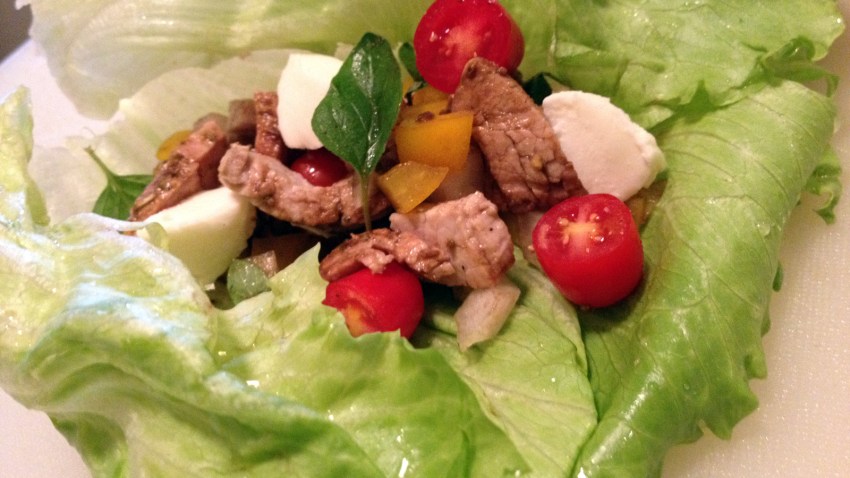 Lettuce wraps are traditionally made with an Asian spiced filling. But, I thought i'd experiment and give mine a bit of an Italian flavor. So, using a stone ground mustard and herb spiced pork tenderloin, I added garlic, oregano, tomatoes and mozzarella. It makes a nice combination of fresh and cooked ingredients with a dipping sauce for a little extra flavor.

Italian Lettuce Wraps
makes about 6-8 appetizer servings

Ingredients

Sauce

3 tbl Balsamic Vinegar
1/2 cu Vegetable Stock, or chicken stock
1 1/2 tbl Molasses
3 tbl Stone Ground Mustard

Pork Mixture

Small Pork Tenderloin, about 1 1/2 lb, rinsed and patted dry, you'll only use half for this recipe.
2 tbl Stone Ground Mustard
1 1/2 tbl Pork Spice Mix (ingredients below)
1/2 tbl Olive Oil
1 lg Yellow Pepper, seeded and diced
1 sm Red Onion, chopped
2 cloves Garlic, peeled and smashed
1 cu Grape Tomatoes, halved
1/2 cu Fresh Mozzarella, cut into pieces about the size of the tomato halves
1 1/2 tbl Fresh Oregano, roughly chopped
Salt and Pepper, to taste

1 head Iceberg Lettuce, leaves separated

Method

Whisk sauce ingredients in a small saucepan and bring to a boil. Stir at a rolling boil for 2 minutes. Remove from heat and strain. Set aside.

Preheat oven to 350 degrees F. Place tenderloin on a baking sheet and liberally cover all surfaces with the grilling spice mix. Cover the spice mix with the stone ground mustard. Roast tenderloin to an internal temperature of 150 degrees F in the thickest part, about 40 minutes. Cooking times vary depending on the size of the tenderloin and actual oven temperature. It's always best to use a thermometer to test for doneness.

Remove the tenderloin from the oven and let it rest for 10 minutes. Slice half the tenderloin into 1/2" slices and then chop into bite size pieces. You can use the entire tenderloin for this dish if you want a "meat eaters" version (or are feeding a big crowd). Or, you can save half and slice it for sandwiches.

Meanwhile, heat olive oil in a saucepan over medium high heat. Add onions and sauté for about 2 minutes. Add garlic, yellow pepper and half of the oregano and sauté until just tender, about 3 minutes longer. Remove from heat. Toss together tenderloin, sauteéd vegetables, tomatoes, remaining oregano and mozzarella. Season with salt and pepper and serve with lettuce leaves and sauce.

Tip: An easy way to separate the lettuce leaves is to run water into each outer leaf layer until it pulls away.

SQUEALER

Pork Grilling Spice Mix

Ingredients

5 1/2 tsp Paprika

3 1/2 tsp Black Pepper

1/2 tsp Red Pepper Flakes

1 1/2 tsp Cumin

1 1/2 tsp Oregano

1 tsp Salt

1 1/2 tsp Garlic Powder

1 1/2 tsp Onion Powder

1 tsp Cayenne Pepper

2 1/2 tsp Brown Sugar

Mix ingredients together and either grind in spice grinder or in a mortar and pestle. Store in an airtight container.

If you have any comments or questions, please send me an email at wayne@waynesweekend.com or follow me on Facebook or Twitter.