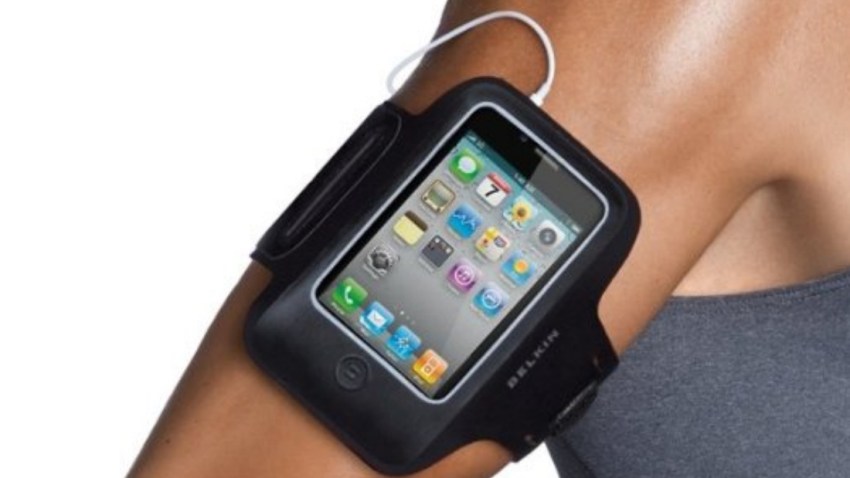 For those of us that like music when we run, it's a constant struggle to figure out where to put our phones or MP3 players. Outside, you're stuck carrying it in your sweaty fist. Even on the treadmill, I've fallen victim to the good ol' headphone snag, where my arm movement snags the cord and I accidentally send it flying off the shelf.
But those problems can be solved with the proper armband. I've been using the Belkin DualFit armband for iPhone 4/4S, made of neoprene with adjustable Velcro fastening. Here are my pros, cons, and general thoughts:
Comfort: It's very light (1.5 ounces) and the neoprene is stretchy and form-fitting. The adjustable strap allows you to tailor it to you, and what I found particularly helpful, your outfit—it will hug your bare arm just as easily as a bulky sweatshirt, though some reviews say it's not quite targeted to the very muscular fellas. It does take a bit of adjusting if you have a lot of arm motion as well—it can occasionally slide.
Features: I love the little extra thought put into this model, in the form of reflective stripes for a tiny bit of added safety, and the handy key pocket, which keeps your house key secure in all the jostling. The neoprene shell also accommodates your driver's license, credit card, and a bit of cash just in case, so you don't need to carry anything else at all! Though the shell is form-fitting, so you can't slide an already-enclosed phone in there—you have to take your everyday case off each time.
Worth mentioning: One negative thing I found is that while the case is advertised as water-resistant (and the screen definitely is), I have finished a long run on a hot day and sweated through the neoprene, only to pull my phone out with a slightly damp back. Not a problem for everyone, but something to think about in the sweltering summer months.
Durability: I've used this for over a year, and while it still holds up to the task, there is a bit of noticeable wear and tear. The top flap that keeps the phone inside the pocket has worn down a bit, and the screen has definitely clouded. On a rare occasion it can affect navigational ability, but it does come with a one-year warranty.
Price: At $24.99, the DualFit is pretty squarely in the middle of the road. In unobtrusive black, with a slimmer band than most models, and less bells and whistles, it seems like the no-frills way to go.
Final thoughts: I've gotten a lot of good use out of the DualFit, and would recommend it for the lightweight feel and simplicity, as long as you keep in mind the few drawbacks. The main thing for me is that it keeps my phone safe and doesn't weigh me down. Headphone snag no more!
If you want to hear what others had to say, check out the reviews, and if you want to learn more or pick one up, here it is on the official Belkin website.