This article is sponsored by Mrs. Dash®, an all-natural, salt-free Seasoning Blend available in 14 different varieties. For more mouthwatering grilling recipes, visit MrsDash.com.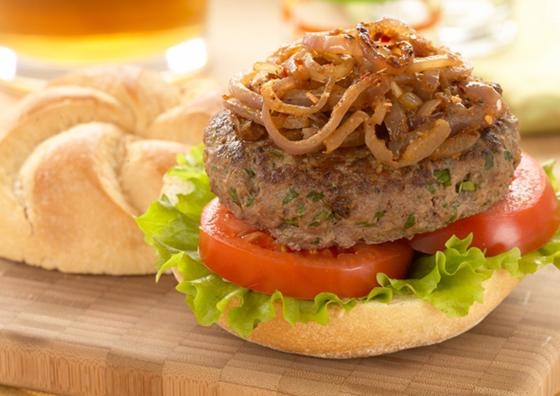 In the civilized world that is your backyard (that last slip and slide party notwithstanding), summertime means grilling time. But just because you -- a self-proclaimed pitmaster and keeper of the eternal flame -- love manning the coals doesn't mean you have to subject your family to basic burgers and that same old barbecue chicken you've served countless times before.

Instead, try cooking up some delicious grilled dishes with all natural seasonings and you might be surprised by how easy it is to add big flavor to your grilling favorites.

Bold seasonings and zesty marinades are just some of the ways you can spice up burgers, chicken and vegetables on the grill. The four recipes below fire up the flavor with all-natural Mrs. Dash® salt-free seasoning blends. Trust us, these unique herb and spice combinations transform an ordinary cookout into something to truly brag about.

And when were you ever above bragging. grill master?

Chipotle Burgers with Spicy Onions


Serves: 4
Prep Time: 10 minutes
Cook Time: 20 minutes

Ingredients
1 teaspoon olive oil
1 large red onion, peeled and thinly sliced
2 tablespoons Mrs. Dash® Southwest Chipotle Seasoning Blend, divided
1 pound extra lean ground beef
1/4 cup fresh cilantro, chopped
2 egg whites, or egg substitute equivalent to 1 egg
4 toasted hamburger buns
Sliced tomatoes (optional)
Lettuce (optional)

Directions
Heat oil in large non-stick skillet, add onion and cook until golden and tender, about 10 minutes. Stir in 1 tablespoon chipotle seasoning blend, mix thoroughly and remove from heat.

Gently mix ground beef with remaining 1 tablespoon chipotle seasoning blend, cilantro, egg whites or egg substitute; mix well, and shape into 4 burgers.

Preheat grill to medium-high heat; grill burgers for 8 to 10 minutes turning once. Toast buns and top with burger and spicy onions. Garnish with tomato and lettuce, if desired.
---

Grilled Chicken Caesar Salad

Serves: 4
Prep Time: 10 minutes
Cook Time: 8 to 9 minutes

Ingredients
4, 4-ounce skinless boneless chicken breast halves
2 tablespoons Mrs. Dash® Chicken Grilling Blend
1 tablespoon olive oil

Dressing
2 tablespoons fresh lemon juice
1/2 teaspoon fresh pepper
1/4 cup fat free mayonnaise
1 tablespoon Mrs. Dash® Chicken Grilling Blend

Salad
8 cups Romaine lettuce, torn
1/4 cup Parmesan cheese, grated
1/2 cup unseasoned croutons

Directions
Chicken: Preheat grill to medium high. Brush chicken on both sides with olive oil.

Fully coat chicken breasts with chicken grilling blend, applying pressure to ensure seasoning sticks to the chicken.

Place chicken breasts on grill, close cover and grill 7 to 8 minutes or until chicken is cooked and juices run clear when pierced.

Remove chicken from grill and cool. Cut into short strips; set aside.

Dressing: Combine lemon juice, mayonnaise, pepper and chicken grilling blend. Let stand while chicken is cooking.

Salad: Place lettuce in large bowl. Toss with dressing; garnish with Parmesan cheese and croutons. Place chicken strips on top and serve.
---

Grilled Pork and Pineapple Kabobs

Serves: 6
Prep Time: 15 minutes (plus marinating time)
Cook Time: 12 to 15 minutes
Ingredients
1 1/2 cups pineapple juice
Juice of 3 limes
3 tablespoons olive oil
1 tablespoon Mrs. Dash® Chicken Grilling Blend
3 tablespoons brown sugar
1 1/2 pound trimmed pork tenderloin, cut into 1 1/2 inch cubes (36 cubes)
1 fresh pineapple
Vegetable oil spray
Fresh chives, minced, optional
Lime wedges, optional

Directions
In large plastic bag, mix together pineapple juice, lime juice, olive oil, chicken grilling blend, brown sugar and pork. Toss to coat and refrigerate for at least 4 hours or up to 12 hours.

Trim pineapple and cut out core. Cut fruit into 1 1/2 to 2-inch cubes. You will need about 18 cubes.

Spray barbecue rack with olive oil spray, heat barbecue.

Thread pork and pineapple chunks on six 12-inch skewers, beginning and ending with chunks of pork. Each skewer should have approximately 6 cubes of meat and 3 cubes of pineapple. Discard the marinade.

Grill kabobs 12 to 15 minutes, turning several times or until meat reaches 155°F on a meat thermometer. Remove skewers and lay on an attractive platter, garnish with fresh chives and lime wedges.
---

Seasoned Grilled Corn on the Cob
Serves: 4
Prep Time: 5 minutes
Cook Time: 20 to 25 minutes
Ingredients
1 1/2 tablespoons Mrs. Dash® Tomato Basil Garlic Seasoning Blend
3 tablespoons Molly McButter® Natural Butter Flavor Sprinkles
4 corn on the cob, husks on

Directions
Preheat barbecue to medium high.

Carefully peel back corn husks but do not remove. Remove the silks and discard.

Gently rinse corn. Shake dry.

Sprinkle each corn cob evenly with butter flavor sprinkles and seasoning blend.

With corn on its side, gently fold husks around corn and tie with kitchen string.

Grill corn directly over medium heat 20 to 25 minutes.

Turn corn at least three times during cooking process. Cook until tender.

To serve, remove the string from corn. Peel back husks and enjoy.