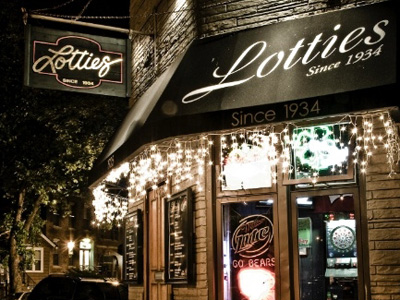 It's time to stop taking your first-time Chicago visitors the usual suspects like Navy Pier and Millenium Park.

A slicker move would be to impress them with a slice of the city's shadowy past by visiting Lotties Pub (1925 W. Cortland).

The Bucktown bar used to be a speakeasy frequented by mobsters, gamblers, prostitutes, politicians and other ne'er do wells, and was run with an iron fist by its feared hermaphrodite owner, Lottie Zagorski, who was indicted by the FBI in the '60s but died shortly after testifying to the grand jury.

With such a colorful past, there's plenty of reason to celebrate this landmark bar's 76th birthday, and that's exactly what they're doing this weekend.

The party starts on Saturday with 76-cent beer and live entertainment throughout the day, starting at 2 p.m. A complimentary buffet will be available until 3 p.m., along with giveaways throughout the day and live band karaoke at 9 p.m.

The festivities continue on Sunday with a special Hangover Brunch featuring a new menu and a complimentary mimosa for each diner.

In short, there'll be lots of booze and partying just like old times. Just be on your best behavior, or the ghost of Lottie will be sure to set you straight.