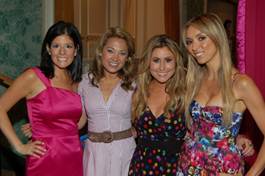 Tea time hits this side of the pond Sunday with an elegant ballroom soiree.

Catch a break from the summer heat this weekend at the annual "For the Women We Love" High Tea Celebration.

Spend the afternoon in the Grand Ballroom of The Standard Club (320 S. Plymouth Ct) while sipping on a refreshing glass of tea and benefitting Bright Pink -- a nonprofit dedicated to educating women who are at high risk for breast and ovarian cancer.

Entertainment includes former broadway performer Laurie Akers, a live harpist and a silent auction while enjoying lunchtime bites from The Standard Club's kitchen.

In honor of the women you love, a professional photographer will be on hand to snap a shot of you and your gal(s) on an aptly-hued pink couch.

The event runs from 1-4 pm and tickets are $75.

We think high time Americans caught on to this tradition.