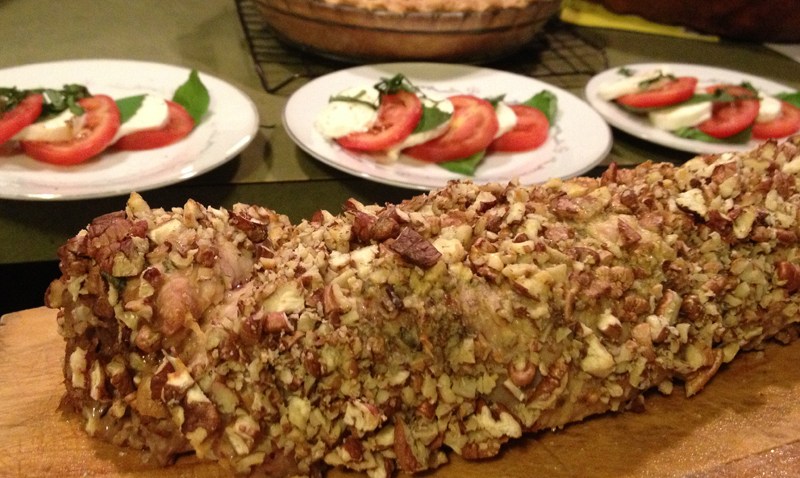 My parents have three pecan trees in their backyard in Houston. This season, while competing with a smaller number of squirrels than usual, mom and dad harvested a bumper crop of pecans. I couldn't resist using them to create this special southern style dish, which I made as part of a birthday celebration for my dad. This recipe is great with pork, but you could certainly vary it with chicken or fish if you like. You'll just have to vary the cooking times a bit depending on the type of meat you choose. If you don't have either an instant read thermometer or remote temperature probe, I highly recommend getting one or the other. It certainly takes the guesswork out of roasting a dish like this to the perfect temperature.

Pecan Crusted Pork Tenderloin
4 medium sized servings

Ingredients

Tenderloin

1 Pork Tenderloin (about 1.5 lbs)
1 tbl Dijon Mustard
2 tsp Fresh Rosemary, finely minced
2 tsp Fresh Oregano, finely minced
2 tbl All Purpose Flour
2 lg Eggs, beaten in a large shallow bowl or dish
1 cu Pecans, finely chopped

Cheese Grits

2 1/4 cu Water
1 cu Grits, uncooked
4 oz Smoked Gouda Cheese, grated

Bourbon Sauce

1 lg shallot, finely minced (about 1/4 cu)
1 lg clove Garlic, minced
1 tbl olive Oil
2 tbl Butter
1 tbl Dijon Mustard
1/4 cu Bourbon
1 cu Vegetable Stock
1 cu Apple Juice
1/4 tsp Pepper

Method

Preheat oven to 350 degrees F. Rinse tenderloin and pat dry with paper towel. Liberally rub Dijon on all surfaces of tenderloin. Mix together flour, rosemary and oregano in a small bowl. Coat mustard covered tenderloin with flour mixture. Set aside. Whisk eggs in a shallow bowl. Spread chopped pecans out on a sheet of parchment or wax paper. Gently coat floured covered tenderloin in egg mixture. Place tenderloin on top of pecans and roll it to coat all surfaces with pecans. bring up the sides of the parchment to help press the pecans into the egg mixture. Transfer tenderloin to a baking dish and roast for about 40 minutes. Internal temperature of tenderloin should reach 145 degrees F.

About 5 minutes before tenderloin id done, prepare grits by bringing water to a boil in a medium saucepan. Stir grits into water to thoroughly combine. Cover saucepan and reduce heat to a lost simmer and simmer for 12-13 minutes until grits are tender. Remove from heat and add gouda cheese. Stir until mixture is smooth and creamy.

Prepare the sauce while tenderloin is roasting by heating butter and olive oil over a medium low heat in a small saucepan. Add garlic and shallots and sauté over this low heat until shallots are tender, about 7 minutes. Add Dijon and stir to combine. Add bourbon, vegetable stock, apple juice and pepper. Bring mixture to a boil and stir regularly until mixture reduces to less than 1/4 its volume and thickens, about 30 minutes.

Remove Tenderloin from oven and let it rest for 10 minutes. To plate the dish, place 1/4 of the grits on eat of 4 serving plates. Cut the tenderloin into 1" slices and place 1/4 of the slices on top of each portion of grits. Spoon the sauce over the tenderloin slices and spoon a bit on the side along the grits as well. Serve warm.

If you have any comments or questions, please send me an email at wayne@waynesweekend.com or follow me on Facebook or Twitter.