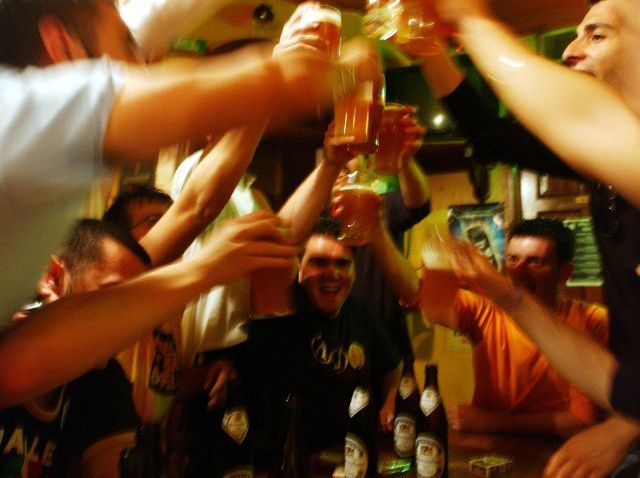 FIRST COURSE:
Acorn Squash Soup
o
Ichabod combines malted barley and real pumpkin with cinnamon and nutmeg in a delicious and inviting brew.
o
Recommended Foods:
A rewarding complement to many dishes, Ichabod pairs well with autumnal foods such as poultry and root vegetables. After dinner, try it with your favorite dessert! Alc. 5.2% by Vol.
Jaw-Jacker Harvest Ale by Arcadia Ales
o
Using only the finest malted barley and a touch of wheat for mouth-feel, Jaw-Jacker pours a brilliant orange-amber color with truly unique flavors. Although no pumpkins are used, a blend of nutmeg, allspice and cinnamon work with malty flavors to create a bold flavor reminiscent of pumpkin pie. A light hop note balances out the beer nicely.
o
Recommended Foods:
Boiled Brisket with Root Veggies, Roast Duck or Turkey, Pumpkin Pie or Sweet Potato Pie with Vanilla Bean Ice Cream. 6.0% ABV
SECOND COURSE:
Grill-Steamed Trout with Corn & Confit Tomatoes
Bam Noir – Dark Farmhouse Ale by Jolly Pumpkin Artisan Ales
o
Dark, smooth, delicious. Aromas of worn leather and cool autumn nights. Notes of sweet plum and toasted raisin, hints of coffee and cacao. Lingering tart and refreshing finish. Only available for a few short months. Not to be missed.
4.3% abv
o
Recommended Foods:
Tomatoes, black pepper, layered sauces and dishes with slight citrus accents.
THIRD COURSE:
Pork Shank & Apple-Braised Cabbage
Charkoota Rye – Smoked rye dopplebock by New Holland Brewing
o
An homage to all things Pig, including Porkapalooza (October 3
rd
in
Fennville
, MI
http://pork.newhollandbrew.com
) and the age-old tradition of Charcuterie. Charkoota Rye's malty backbone is derived from a blend of rye and four other malts, including malted barley smoked over cherry wood. Its smoke-forward body is balanced with tones of deep mollasses and caramel, with a crisp, clean lager finish.8.3% abv
o
Recommended Foods:
Delightful by itself,
Charkoota is best served with its succulent counterpart, Pork.
FOURTH COURSE:
Chocolate-Raspberry Brioche
o
This is a true dopplebock and Dark Horse Brewing's only publicly distributed lager. They use fare trade organic coffee from their friends at The Ugly Mug Cafe in Ypsilanti, MI - 7.5% abv
o
Recommended Foods:
Chocolate, desserts featuring creamy flavors.
Breakfast Stout by Founders Brewing Company
o
The coffee lovers consummate beer. Brewed with an abundance of flaked oats, bitter and imported chocolates, Sumatra and Kona coffee, this stout has an intense fresh roasted java nose topped with a cinnamon colored frothy head that goes forever. 8.3% abv
o
Recommended Foods:
Chocolate, fruit, especially raspberries, baked goods such as biscotti.
·
Are these beers available to purchase in the Chicago area?
o
Yes, Southwest Michigan has 15 of more than 70 microbreweries that are near Chicago, so be sure to check out
www.michigan.org/FallBeerFestivals
for more information on food/beer events and celebrations.
·
What's significant about the beers or breweries of the Midwest/Michigan?
·
Any advice for people interested in visiting Michigan Breweries or attending Michigan Beer events?
·
Upcoming Michigan Events (NOTE: ATTACHED ARE MORE EVENTS)
o
October 3rd, 2009 – New Holland's Porkapalooza – Fennville, MI
o
October 24th, 2009 - Michigan Brewer's Guild -Inaugural Harvest Festival - - Eastern Market, Detroit
o
Feb. 27
th
, 2010 Michigan Brewers Guild Winter Beer Festival –
October 4- 7: Primehouse by David Burke's OktoBEER Fest. (3 breweries in 4 days, New Holland Brewing's dinner is on October 6th.