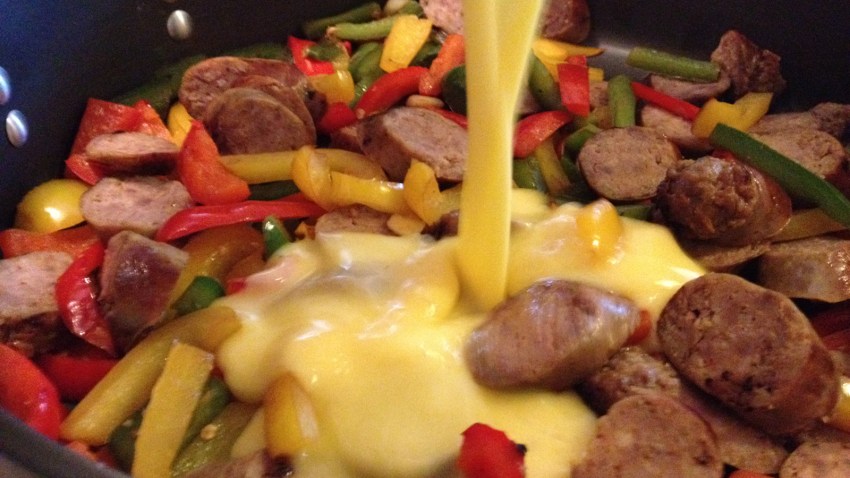 I wanted to do a brunch segment this week and I reached out to my Facebook friends for ideas. The response was great and I received more suggestions than I could possibly share at one time. So, here's a sample of some of the ideas and a few recipes if you'd like to give them a try:

Matthew Shelley suggested going with heirloom tomatoes sliced thick and drizzled with raspberry balsamic, basil sprinkles, olive oil, your favorite dry crumbled cheese and a little fresh pepper. He also suggested placing even thicker slices on the grill for just a few seconds to sear in some appetizing grill marks.

Amy Grendzinski does a traditional Italian Frittata with eggs, Italian sausage, roasted peppers, garlic and ricotta cheese, all topped with parmesan cheese and a little parsley for color.

Samantha Robison likes to indulge in "do-it-yourself" crepes with a big toppings bar. She starts with a tall stack of basic homemade crepes and lines up a bunch of toppings for the family to fill them with. She suggested anything from Nutella, jams, fruit, and nuts to veggies, cheeses, and more.

Diana Ladywarrior likes cherry tomatoes with small balls of fresh mozzarella in olive oil with the typical Italian seasonings. This is a simple dish but she always gets rave reviews.

Many of these ideas are easy to do without step-by-step recipes simply based on the descriptions above. But, I asked Amy Grendzinski for her frittata recipe and she was happy to share. This is a large recipe that serves about 8-10 people. If you don't have a large pan as described below, or want to server a smaller group, you'll have to estimate the reduction in ingredients. But, as Amy told me, she uses the "a little of this and a little of that" method with this recipe anyway. So, measurements are all estimates. But, I made it as detailed below and it's quite good!

I also provided a basic crepe recipe below should you like to try Samantha's idea.

Italian Frittata
courtesy of Amy Grendzinski

Ingredients

1 lb Italian Sausage, spice level of your choice
1 lg Red Green, chopped
1 lg Yellow Pepper, chopped
3 cloves Garlic
14 lg Eggs
1/2 tsp Salt
1/2 tsp Pepper
1/2 tsp Garlic Powder
1/2 cu Ricotta Cheese
1/4 cu Grated Parmesan Cheese
12" oven safe pan about 4" deep

Method

Preheat oven to 350 degrees F. Sauté italian sausage in a large pan until cooked through. Remove from heat and allow to cool, then slice into bite size pieces.

Sauté peppers and garlic in olive oil over a medium high heat until tender, about 8-10 minutes. Transfer to an oven safe pan and add sausage.

Whisk together eggs in a large bowl until double in bulk. The more you whisk the eggs, the lightly and fluffier the frittata will be. Season with salt, pepper and garlic powder and pour over sausage and vegetable mixture. Place about tablespoon sized dollops of ricotta evenly around outer edge the pan. Bake for about 40 minutes. Sprinkle parmesan cheese on top and broil for just a few minutes. Remove from oven and serve.

Basic Crepe Recipe

Ingredients

1 cu All-Purpose Flour
2 lg Eggs
1/2 cu Whole Milk
1 cu Water
1/4 tsp Salt
4 tbl Butter, melted
Pastry Brush

Method

Sift flour into a large bowl. In a smaller bowl, whisk together eggs, milk and water. Slowly whisk the liquid into the flour mixture. Add salt and 2 tablespoons of the butter and mix thoroughly.

Heat a flat skillet over a medium heat. Brush a bit of the remaining butter on the surface and pour about 1/4 cup of mixture in a circular motion in the center of the pan. Immediately tilt the pan to spread the mixture out as evenly an smoothly as possible forming a larger circle. Cook for about 2 minutes. The edges should curl a bit. Using a spatula, flip the crepe to the other side and cook for about 1 minute longer. Layer crepes on wax paper and repeat until all the batter has been used.

Fill crepes with your choice of sweet or savory fillings and serve.

Thanks again to Amy, Matthew, Samantha and Diana for sharing their ideas. I think they are all terrific. If you have any questions, comments or ideas of your own, please send me an email at wayne@waynesweekend.com or follow me on Facebook or Twitter.