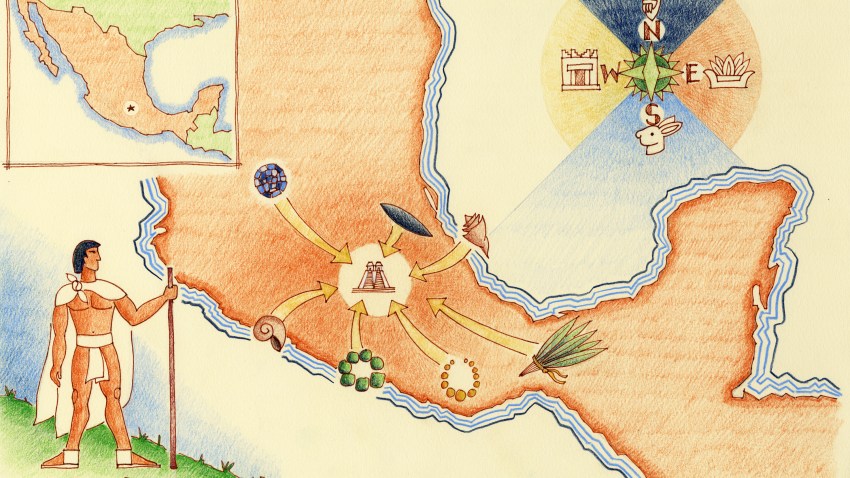 The cuisine of the Aztec empire will take centerstage in restaurants across town from Sunday, Jan. 11 through Saturday, Jan. 17 during "Taste of the Aztec World," an initiative sponsored by the Field Museum in conjunction with its buzzworthy exhibition showcasing Aztec culture.
"The Aztec World," the Field's in-depth look at this complicated and often misunderstood society, opened in October to much fanfare (including right here and here). As the exhibition continues into the new year, local chefs and mixologists are getting into the spirit, creating dishes and cocktails based on our knowledge of the Aztec diet that both foodies and history buffs will want to try.
A sampling of the offerings at the 17 participating restaurants includes a special menu at South Loop Latin restaurant Cuatro, where dishes include a pork-and-sweet hominy stew, a whole red snapper, duck breast in a spicy plantain mole, and an Oaxacan flourless lava cake with diced wild strawberries and cinnamon atole ice cream.
The dishes are a bit more out-there at River North's Zocalo, where a special trio of sopes includes braised rabbit, squash blossoms with chiles and salsa, and, wait for it, toasted grasshoppers, apparently a staple of the Aztec menu. Zocalo's entrees include a roasted turkey leg with squash and sweet potato, and dessert features an anisette-and-raisin sweet corn tamal with agave-honey syrup and toasted amaranth.
Grasshoppers also make an appearance at Nacional 27, also in River North, in the form of a spiked guacamole. There is also a stew of maize, pork and guajillo, as well as rabbit enchiladas, on the menu. Mixologist Adam Seger has dreamed up cocktails from the ancient Aztec world, including cocktails made with maguey, an agave plant.
At Lakeview's Kit Kat Lounge & Supper Club, the festivities feature dishes, drinks and a special giveaway. Dinner menu items include a spicy pork soup with hominy beans, poached turkey tacos and mole-braised duck breast. Chocolate-driven cocktails (the Aztec love of cocoa is legendary) are also available, such as chocolate-covered strawberry, dark chocolate and chocolate-raspberry truffle martinis. Also part of Kit Kat's celebration is a raffle giveaway of a rendering created by Field Museum senior exhibition developer Franck M. Mercurio. (Anyone with a ticket stub from the exhibition can enter.) The autographed artwork, which is featured in "The Aztec World" exhibition, will be raffled off on Friday, Jan. 16.
Copyright FREEL - NBC Local Media