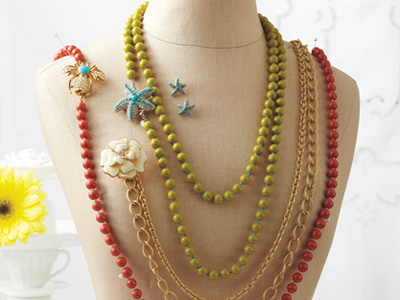 Your mother's home-selling parties probably involved plastic bowls with snap-on lids, but it's a brand new day for "social selling."

And no, we're not talking about those products reserved for after hours use behind closed doors. Today's modern woman is more apt to host jewelry parties using companies such as Stella & Dot.

Jessica Herrin's vision for her company was propelled by her desire to always look and feel her best, motivated by her need to spend more time with her family -- not to mention her own entrepreneurial spirit.

She found the perfect combination of must-have jewelry (at affordable prices), coupled with the personal and customized service found in the luxury jewelry industry and brought it all together in the home party environment.

Now women can host cocktail parties/shindigs/wine-tastings/what-have-you for and with their girlfriends looking to find fabulous deals and unique finds, plus get amazing personal styling advice. This unique approach allows busy women to either earn some extra dough, or even build a whole career as a Stella & Dot stylist.

But what you'll love most about it is simply the jewelry. Herrin partnered up with Blythe Harris (a Parsons School graduate who's designed for Banana Republic and DeBeers) and celebrity designer Maya Brenner, and put together a collection of pieces that range from modern to vintage-y, delicate chains to chunky beads, signature charms, with collections inspired by select parts of the world, such as St. Tropez, Passage to India, Salyulita Mexico and many more.

The entire line is uber-feminine, versatile and has a funky, one-of-a-kind feel matched with great affordability.

Stella & Dot will be hosting a handful of swank jewelry events this month throughout Chicago, so log on to StellaDot.com to find where and when you'll need to travel.

Makes sense, seeing as their motto is "Passport to Style."

Jessica Zweig is the cofounder of CheekyChicago.com.