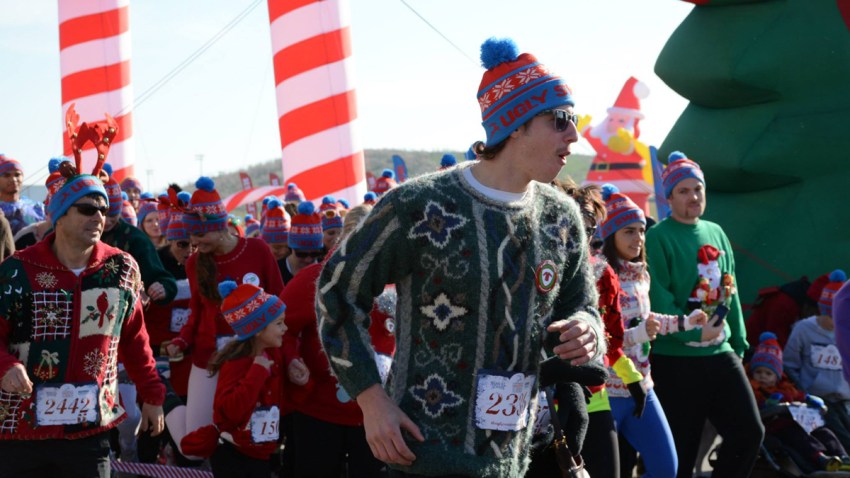 It's that time of year again. Ugly sweater season is upon us, and there's a local run that wants you to sweat in yours.
The aptly named Ugly Sweater Run is coming to Soldier Field Nov. 29. The 5K race is for both runners and walkers, and organizers will host a party at the finish to get you in the holiday spirit. During the race, runners can warm up at the hot chocolate aid stations.
Afterward, enjoy more hot chocolate, Sam Adam's Winter Lager, Boston Lager or Angry Orchard Hard Cider during the post-run festivities. In addition to the drinks, runners will also receive a custom vintage knit hat and a drawstring bag.
Awards will be given out for both worst sweater and best sweater. (No word yet on whether the ugliest sweater is considered the best or the worst.) And in the spirit of No-Shave November, awards will also be given out for best real mustache, best fake mustache and best beard.
To support holiday giving, race organizers are partnering with Save the Children, a child advocacy nonprofit organization. Participants can select the organization when registering to make a donation.
The cost of the race is $35 if you register before race day and $40 if you register Nov. 29. There is a discount for particpants who register as a team with at least four members.
The race takes place at Soldier Field Nov. 29 at 11 a.m. Register at the Ugly Sweater Run.