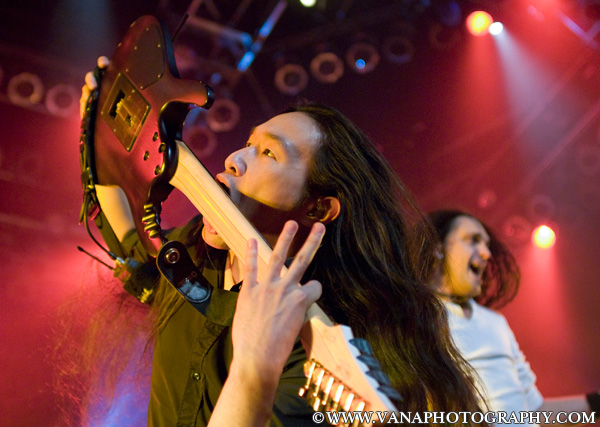 AN ULTRA BEATDOWN OF THE SENSES: Perhaps the most memorable part of "Guitar Hero III: Legends of Rock" is the intense finale to speed-metal group DragonForce's "Through Fire And Flames," a more than adequate choice considering how the group merges a Nintendo-like electronic sound with fantasy-inspired lyrics. Fans can check out the London-based group at the House Of Blues (with opener Sonata Arctica) without worrying about stretching their pinky fingers to hit the orange button. 329 N. Dearborn; River North. Doors open at 5 p.m. Show starts at 5:30 p.m. $23 in advance and $25 at the door. All ages.
MILAN OF THE MIDWEST: If you're bored with this season's "Project Runway" (thanks, Lifetime), then channel your inner Nina Garcia at World Fashion Chicago, which takes place at the Harris Theater's Rooftop Terrace at Millennium Park. The show includes more than 35 local and international designers from Chicago's Sister Cities, and it's the closest thing Chicago has to New York's Fashion Week. East Randolph Street between South Michigan Avenue and South Columbus Drive. 6:30 p.m. $25 to $100.
PROCRASTINATION AS COMEDY: Back in high school, coming up with a class presentation at the last minute sometimes proved to be a Herculean feat (and it usually ended in disaster). But Second City veterans TJ Jagodowski and Dave Pasquesi do just that for their hour-long improv show, "TJ And Dave," which runs at iO's Cabaret Theater. The duo claim to know nothing about the show until they walk onstage, where they begin to silently map out stories and characters in their heads. 3541 N. Clark St.; Wrigleyville. 11 p.m. $5.