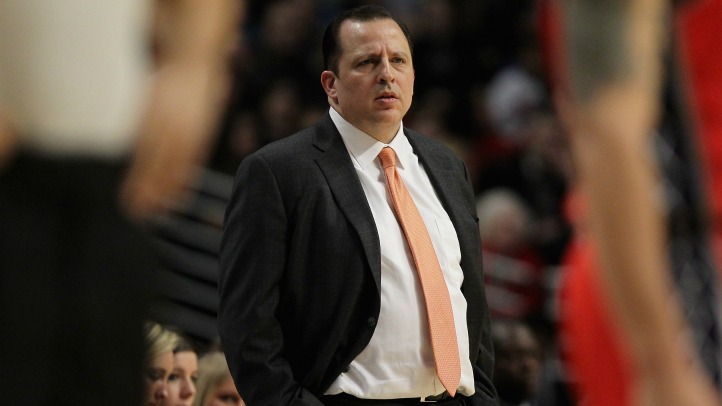 When Keith Bogans was the starting shooting guard for the Chicago Bulls last season, Tom Thibodeau usually only played him in the first and third quarters. Bogans rarely, if ever, saw minutes in the second and fourth quarters and pretty much never closed a game.
His lack of playing time beyond the third quarter was an obvious pattern that mostly was dismissed "because it's Keith Bogans" and it was something that Bulls fans could live with because Bogans was so severely offensively challenged.
This season we're seeing Thibs duplicate that pattern with Rip Hamilton.
Hamilton is without question a better offensive player than Keith Bogans was or ever will be. And though Rip has battled injuries throughout the regular season, by all accounts, he has a clear bill of health in the NBA Playoffs this year.
So why isn't Thibodeau playing him in the fourth quarter? Why hasn't Rip Hamilton been on the floor to close out games?
Thibs has played Hamilton in the final quarter of the Bulls first round series against Philadelphia only once, in Game 3. Since returning to the starting lineup for good on April 2 against the Houston Rockets, Hamilton has only seen fourth quarter action five times. That's covering a span of 14 games which goes back to the regular season and the playoffs.
So by establishing that Hamilton is superior to Bogans – at least offensively – while at the same time seeing Thibodeau having little to no use for him in the final quarter of games where Chicago has shown an inability to close, especially of late, it makes one wonder what exactly is going through Thibs' mind?
In these Playoffs, where your best offensive weapon in Derrick Rose is out and offensive scoring should be a high priority (especially on the perimeter), Rip would surely be able to provide a much needed scoring punch at the shooting guard position. That's why he was brought to Chicago in the first place.
Understandably, Thibodeau would much rather win games with defense than offense. That's his DNA as a coach and you can't fault him that. But what you can fault him for – and what he's been accused of by many – is his stubbornness and unwillingness to change his approach, and seeing this pattern unfold once again sets a bad precedent even though he is a great coach.
Rip Hamilton is under contract until 2013 at which point the Bulls front office will undoubtedly be looking to upgrade at the off guard spot once again. Why would any free-agent shooting guard – elite or otherwise – want to come to Chicago if he knows he'll only see action in two of the four quarters in an NBA game, not including the final one which is by far the most important?
All we can hope for is that none of those potential players are paying close attention.