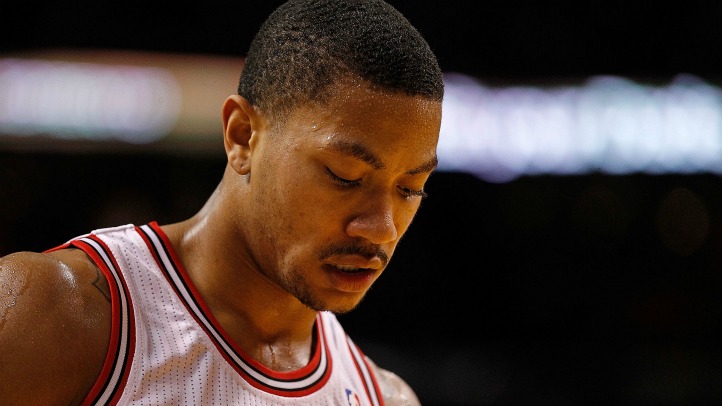 Derrick Rose didn't play much like an MVP Sunday against the New York Knicks. His stats showed 29 points, 6 rebounds and 4 assists, a line we're accustomed to seeing from the 4th year guard, but those numbers don't tell the story of how rough his first game back really was.
In just over 38 minutes of game action, Rose turned the ball over eight times, mostly as he was guarded by Knicks rookie guard and Oak Park native Iman Shumpert, who is quite possibly New York's best perimeter defender.

Shumpert kept heavy pressure on Rose and it became clear this was Knicks Head Coach Mike Woodson's game plan. It worked as Rose turned over the ball 5 times in the first half and scored just 7 points on 1-6 shooting from the field.
D. Rose improved his overall play in the second half and overtime, scoring 22 points and cutting his turnovers down to just 3, but he still struggled with his shooting (7-20 from the field) and 2 of his 3 giveaways came late in the 4th quarter on key Chicago offensive possessions in crunch time, and with the Bulls nursing a very slim lead.
The biggest issue however with Rose continues to be his free-throw shooting in the clutch.
This is something that goes all the way back to the National Championship game when he was at Memphis and reared its ugly head most recently against the Miami Heat in January when he missed two key free-throw's that could have iced the game for Chicago.
On Sunday, Rose went to the line with the Bulls up 3 points and 19.4 seconds left in regulation. Needing to drain one and make it a two possession game, his two misses are what led to the Carmelo Anthony 3-pointer that sent the game into overtime and completely shifted momentum New York's way.
Basketball is as much a game of timing and rhythm as it is athletic ability. Rose showed flashes of his trademark explosion and athleticism – a key indicator that his injured groin is fine – but he was clearly not the player we've become accustomed to seeing. A lot of credit should go to Iman Shumpert and his harassing defense, but Rose sitting out as many games and practices as he did played in both Shumpert and New York's favor.
In light of his struggles yesterday, Bulls fans needn't worry. Rose will quickly regain his form and get his timing and legs back under him. It might take him a few more games, but win or lose, it's just good to finally see him back in uniform.