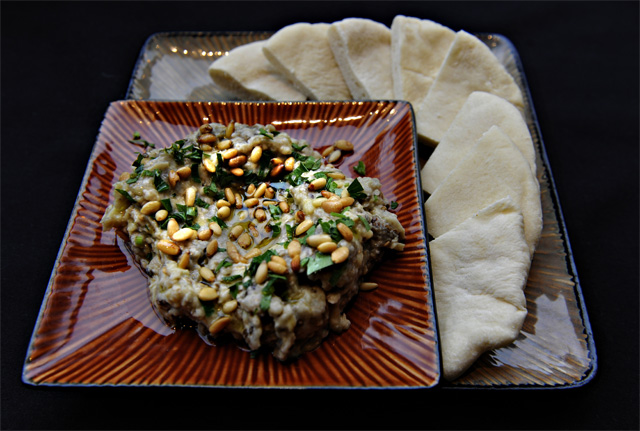 Your day's organized by two simple forces: the El, which determines your traveling, and food, which is delicious and keeps you from dying. Align your wanderings with your chow, with Ari Bendersky's new column, Degus-EL-Station.
Degustation: a culinary term meaning "a careful, appreciative tasting of various foods."

El: that noisy rail jalopy that takes you to other hoods on the cheap.

NEXT STOP: Damen (Blue Line)

WHERE TO EAT: Taxim, 1558 N. Milwaukee Ave, 773-252-1558

COST: $35 (not including drinks, tax or tip)

For a surprisingly fresh twist on Greek fare that doesn't involve screaming "opa!" or smashing plates on the floor, head to Wicker Park where Taxim serves up authentic dishes in a comfortable setting.

Taxim owner David Schneider spent summers with his mother's family in Greece, and he brings generations-worth of inspired food to Chicago. The clean, open space features ornate hanging lamps imported from the Middle East, plush pillow-lined wooden banquettes, mosque-like archways, stark-white walls and exposed brick with minimal art. The somewhat minimalist approach to the room helps diners focus on the food, which adds enough ambiance that you don't need busy decor to distract you.

The menu comprises about a dozen hot and cold small plates and another handful or so entrees and nightly specials, with many ingredients sourced from local farms. If you're a fan of baba ghanoush, start with the creamy and rich revíthia, pureed chickpeas, garlic, lemon and sautéed fresh green chickpeas with warm house-made pita. Don't pass up the prassópita, wild leek, fresh dill and goat feta wrapped in flaky house-made phyllo. And if you like small, hairy fish, be sure to order the sardéles me antrákla, house-marinated Greek sardines with capers and purslane salad. The night I was there, I was feeling adventurous, but sadly they were out of the kokoretsi, wood-grilled small intestine-wrapped lamb offal. Ah well, next time.

Entrees truly reflect traditional country meals throughout Greece with a large representation of lamb (both rack and shank) and goat kebaps, which were incredibly tender and smoky, yogurt sauce, beautiful greens and, of course, olives. And the whole Cretan sea bass nicely represents the coastal influence.

You'll be hard-pressed to find a better representation of Greek wine in Chicago. Most people think of the sweet and fruity Roditis, but Greek wine is balanced, bold, well rounded and varied. For a great sampling, take advantage of Taxim's $10 Greek wine flight Sunday, Monday, Wednesday and Thursday. Or for a real treat, hit the restaurant Oct. 19 for a multi-course wine dinner with vintner George Skouras, starting at 7 p.m. for $85 (covering all costs).

And after that huge meal, order up a robust Greek coffee, settle into the cushions all around you and sleep it off.

Ari Bendersky is a food, wine and lifestyle journalist and the creator of SomethingGlorious.com. He also contributes articles locally to Huffington Post, Time Out Chicago, Michigan Avenue, Concierge Preferred, Tasting Table and more. Follow him on twitter.