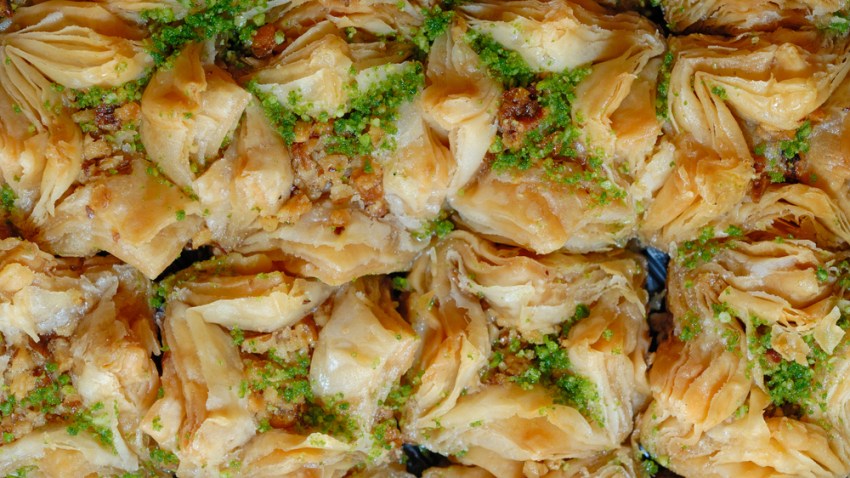 Your day's organized by two simple forces: the El, which determines your traveling, and food, which is delicious and keeps you from dying. Align your wanderings with your chow, with Ari Bendersky's new column, Degus-EL-Station.


Degustation: a culinary term meaning "a careful, appreciative tasting of various foods."

El: that noisy rail jalopy that takes you to other hoods on the cheap.

NEXT STOP: Kedzie (Brown Line)

WHERE TO EAT: Salam Restaurant, 4636 N. Kedzie Ave., (773) 583-0776 and Nazareth Sweets, 4638 N. Kedzie Ave., (773) 463-2457. (see map)

This one-two punch of Middle Eastern magic will satisfy anyone with a serious hunger but a small budget. Literally steps from the Kedzie Brown Line stop in a nondescript strip mall, Salam and Nazareth Sweets are little bits of heaven possibly sent from Muhammad himself.

Start at Salam. This small spot with a walk-up counter, some tables and a few Holy Land posters makes up in taste what it lacks in décor. Bonus: you could easily leave here with a meal for two for under $10.

The most popular items are the sandwiches: falafel, beef shawerma and chicken shawerma. They don't come with much other than toppings (usually tahini or other sauce and tomato, maybe some onions) but are filled with incredible flavor -- you may wonder if you're in Jerusalem. Do yourself a favor and get an order of the creamy hummus; you won't regret it.

For a bigger meal, go for the combination plate: shish kabob (beef skewers), shish taouk (chicken skewers), kifta kabob (minced meat) and shawerma served with pita, salad and rice or hummus, for just $10.99. If you're crafty, you can do what we did and order a dozen falafel ($2.99), a Jerusalem salad ($2.99), some pita and a bit of tahini—all for about $11—and make your falafel sandwiches at home or work so they don't get soggy on the ride.

After your meal, walk next door and grab dessert. Nazareth Sweets makes everything on site and you'll marvel at the rich flavors lined in the glass cases. You can stock up on items like knafeh (baked Nabulsi cheese with sweet honey and baked shredded filo); sweet butter cookies filled with either pistachio, dates or walnuts; cheese- or cream-filled fatayer; date-filled sesame sticks; or some of the lightest, flakiest chopped pistachio- and honey-filled baklava you've ever tasted. Seriously. You'd be hard-pressed to find better baklava in the city. Sorry, Greektown.
Most pastries run anywhere from $0.50 a piece to $7 a box and are great for home, the office or even a dinner party. There's no reason to keep these to yourself.


View Larger Map

Ari Bendersky is a food, wine and lifestyle journalist and the creator of SomethingGlorious.com. He also contributes articles locally to Huffington Post, Time Out Chicago, Michigan Avenue, Concierge Preferred, Tasting Table and more. Follow him on twitter: twitter.com/aribendersky