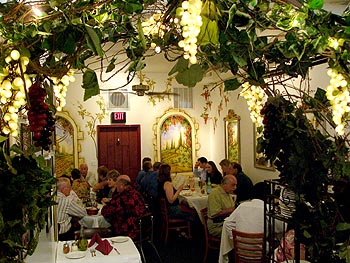 Your day is organized by two simple forces: the El, which determines your traveling, and food, which is delicious and keeps you from dying. Align your wanderings with your chow, with Ari Bendersky's new column, Degus-EL-Station.
Degustation: a culinary term meaning "a careful, appreciative tasting of various foods." El: that noisy rail jalopy that takes you to other hoods on the cheap.

NEXT STOP: Grand (Blue Line)

WHERE TO EAT: La Scarola, 721 W. Grand Ave, 312-243-1740

COST: $25 (average dinner per person for appetizer, entrée and dessert, not including tax, tip or drinks), $12 (lunch).

Walking into La Scarola is like taking a step back in time to an era when Chicago was filled with gangsters and hangers-on looking for a great plate of pasta or a big veal chop. The ambiance here screams old school, with photos of notables on the walls, loud chatter and people packed in like sardines, which no one seems to mind. And don't be surprised to see the occasional celeb: David Schwimmer, Jim Belushi, Nicolas Cage, Morgan Freeman and Faye Dunaway have all dropped by.

La Scarola is somewhat of an underground gem, where it's enough off the grid to keep away the teeming throngs, but where those in the know secure a reservation early to snag the best table. And honestly, if they don't have your name, be prepared to wait—especially on weekends. At that point, belly up to the bar (if you can find a stool) and settle in with a martini or a glass of Chianti.

Once seated start with traditional antipasto, hearty minestrone or lightly breaded fried calamari. Then be sure to order one of their signature dishes: Veal Chop alla Gabe (a 10-ounce pounded and breaded chop, pan fried served with Italian potatoes); chicken Vesuvio, eggplant Parmigiana parmesan or linguine with clams. There's a little something for everyone with white fish or salmon, handmade ravioli and other great meat dishes to choose from.

One of the best things about La Scarola is that even if you're visiting for the first time, everyone is treated like family: If you're lucky, chef/owner Armando Vasquez will do tequila shots with you. Seriously.

Because there's nothing that says classic Italian fare like a shot of José Cuervo. Salute!

Ari Bendersky is a food, wine and lifestyle journalist and the creator of SomethingGlorious.com. He also contributes articles locally to Huffington Post, Time Out Chicago, Michigan Avenue, Concierge Preferred, Tasting Table and more. Follow him on twitter: twitter.com/aribendersky.