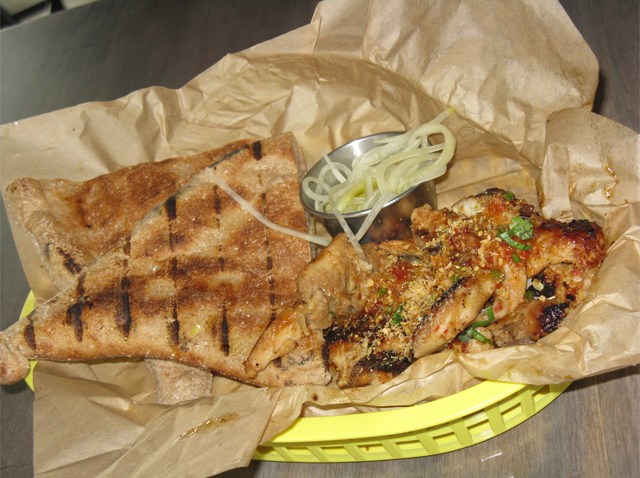 Your day's organized by two simple forces: the El, which determines your traveling, and food, which is delicious and keeps you from dying. Align your wanderings with your chow, with Ari Bendersky's new column, Degus-EL-Station.

Degustation: a culinary term meaning "a careful, appreciative tasting of various foods."

El: that noisy rail jalopy that takes you to other hoods on the cheap.

NEXT STOP: Western (Blue Line)

WHERE TO EAT: Belly Shack, 1912 N. Western Ave., 773-252-1414

COST: $15 (not including drinks, tax or tip)

There's a restaurant in my hometown with a tagline that reads: Not fast food. Good food fast. Today when I visited Belly Shack, the new spot from Urban Belly owners Bill Kim and Yvonne Cadiz-Kim, that line resonated with me. This is the kind of place where we should eat daily, (assuming you go out to lunch each day). Instead of having a greasy burger, a limp piece of chicken or some other unhealthy lunch, we should seek out healthy, flavorful food. Belly Shack delivers that.

The restaurant, which opened this week and sits beneath the Western Blue Line El nestled between Bucktown and Humboldt Park, could start a revolution in quick dining. Belly Shack perfectly marries the concept of Korean and Puerto Rican street food, and the sleek, industrial space—replete with street-art graffiti on the walls—drives that point home.

The concept is simple: step up to the counter, order from a refined list of options, grab a number, receive food, eat and enjoy. The menu, which has a few vegan and vegetarian options, features a handful of sammiches (yes, sammiches, not sandwiches), salads, soup, sides and soft serve. Basically, you choose from the five S's.

Whether you get a Korean BBQ kogi sammich with ssam paste and a toasted Iranian flatbread for $10; a tender lemongrass chicken sammich with peanut and toasted coconut (and just the right amount of spice) for $9; a quinoa ssam salad with Korean chili paste and bibb lettuce for $7; or hot and sour soup with hominy, chicken and cilantro for $4, be sure to add a side of tostones (flattened fried plantains) with chimichurri sauce or Brussels sprouts and chorizo.

Save room for the housemade dairy-free coconut-vanilla soft serve that comes with one of five toppings like huckleberry-lime, Vietnamese cinnamon caramel or ... are you ready for this ... bacon chocolate chip with the chocolate chip cookie bits imported from Mindy Segal's Hot Chocolate. Lucky for me, I chose the bacon cookie bits (I mean, duh -- it's bacon), since Segal happened to walk up to the counter seconds after I ordered. Needless to say, it didn't disappoint.

Belly Shack is open for lunch and dinner and you could easily hop on the Blue Line in the Loop and get there and back during your lunch hour. Just call in your order and they'll have it waiting for you. If you choose to dine in, take note that the restaurant is BYO so feel free to, well, bring your own. A nice dry Riesling, a sweet Gewurtztraminer or even a crisp lager would serve you well with the spicier items, or opt for a Malbec or Syrah for some of the meatier dishes. It is all about pairing different

Ari Bendersky is a food, wine and lifestyle journalist and the creator of SomethingGlorious.com. He also contributes articles locally to Huffington Post, Time Out Chicago, Michigan Avenue, Concierge Preferred, Tasting Table and more. Follow him on Twitter.