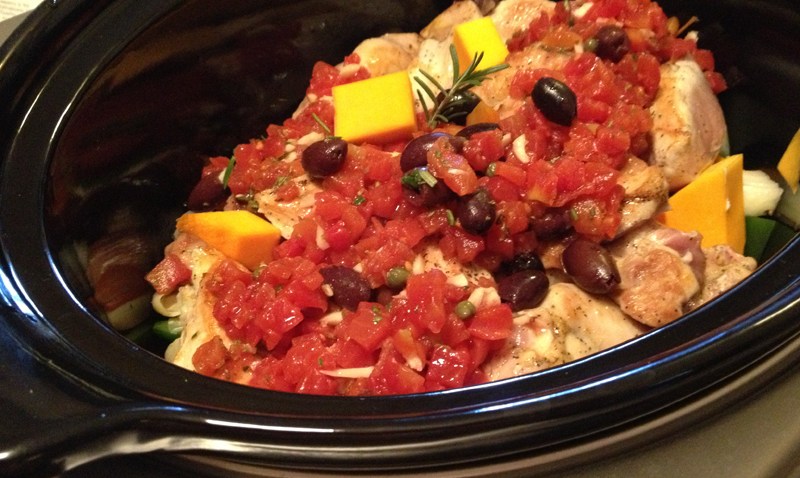 A slow cooker is a great appliance to have in the kitchen. You can prepare meals early in the day and when mealtime arrives, your work is already done. Because I've been focusing on healthy meals for the start of the year, I put together a healthy version of Mediterranean chicken. The kalamata olives and capers are a big part of the flavor of this meal. I also use lemon and lime peel as well. If you have access to preserved lemon, try using the peel of that instead…it's a strong flavor that adds another dimension to this dish.

Crockpot Mediterranean Chicken
makes about 6-8 servings

Ingredients

1 1/4 lb Boneless Skinless Chicken Breasts
1 1/4 lb Boneless Skinless Chicken Thighs
1 tsp Pepper
1 tbl Olive Oil
1 lb Butternut Squash, peeled seeded and cut into 1" cubes, about 5 cups
1 Green Pepper, seeded and cut into 1" pieces
3 1/5 oz Sun Dried Tomatoes, dry packed (not in oil), roughly chopped, about 1 cup
1 med Onion, chopped
1 can Chopped Tomatoes, 14 oz size, no salt added
3 cloves Garlic, peeled, smashed and minced
1/2 cu Kalamata Olives
1 1/2 tbl Capers
1 Lemon, zested and juiced, reserving both
Zest of 1 Lime
2 tsp Fresh Rosemary
2 tsp Fresh Oregano
2 tsp Ground Cumin
1/4 cu Fresh Flat Leaf Parsley, roughly chopped

Method

Rinse all of the chicken pieces in cold water and pat dry with a paper towel. Trim away fat and cut the breasts so they are about the same size as the thigh pieces. Season with pepper. Heat olive oil in a large saucepan over high heat. When oil is hot, place chicken in the pan and sear for about 3 minutes on one side only until surface is nicely browned. The rest of the chick should still be raw. Remove from heat and set aside.

Place squash, green pepper, sun dried tomatoes and onion in the bottom of a crockpot and mix together. Place the chicken on top of the vegetables with the seared side up.

In a large bowl, mix together canned tomatoes, garlic, olives, capers, rosemary, oregano, cumin and lemon juice (you'll use the zest at the end of the recipe). Pour mixture over chicken. Turn on crockpot and cook at low temperature for 6 hours. About 30 minutes before cooking is done, add lemon zest and lime zest. Taste for seasoning. You'll find that the capers and olives add saltiness. But, add additional seasoning if you like.

Serve dish in individual bowls or plates with a sprinkle of fresh flat leaf parsley on top.

If you have any comments or questions, please send me an email at wayne@waynesweekend.com or follow me on Facebook or Twitter.