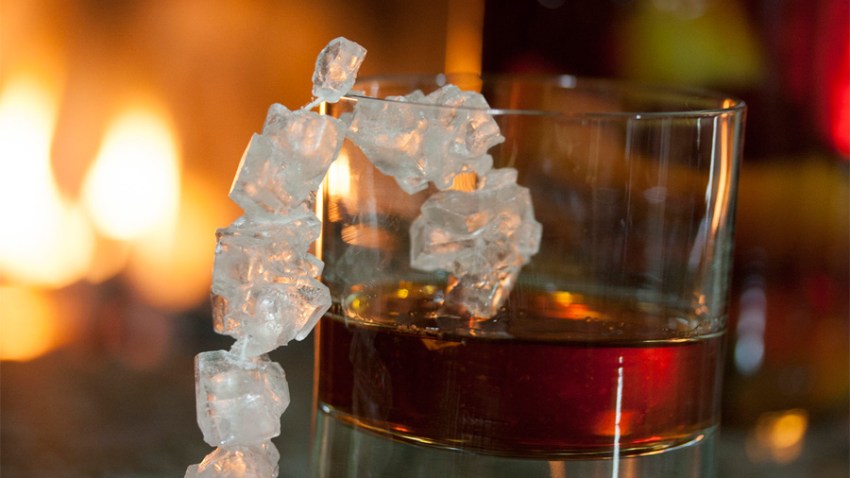 With more and more restaurants and lounges specializing in "mixologist" bartenders, creative mixed drinks are enjoying a new wave of popularity. Now that the holiday season is in full bloom, this the perfect time for entertaining at home and delighting your guests with a few new refreshing drinks. With an eye to the past, when fancy cocktails were being created, The Hearty Boys have brought a fresh new look to the classics and created a recipe book that's very approachable for us wanting to become special mixologists for our guests at home. Steve McDonagh joined me this week and share a few of drinks and salty snacks from his that he created with his partner Dan Smith. Here's a small sampling as well as information on where you can get a copy of "The Old New Bar, Classic Cocktails and Salty Snacks from The Hearty Boys."

Rock and Rye
courtesy of Steve McDonagh
Yield: 1 cocktail

This isn't booze; its medicine! Once known as a cure for the common cold this distinctly American tipple can be enjoyed on the rocks, as part of a flavorful Manhattan or added to hot water for a Toddy that will be good for what ails you. Horehound is a bitter herb known for its cough suppressant qualities, figs are loaded with B vitamins and cloves are said to be an aphrodisiac. Don't you feel better already?


1 (750-ml) bottle of Rye
6 Horehound Candy Drops
Peel of 1 Lemon
Peel of 1 Orange
2 Dried Figs
6 Whole Cloves
4" Rock Candy
1 ounce Cherry Syrup

Pour the rye into a large wide-mouthed jar. Add the rest of the ingredients and cover. Steep for at least three days gently shaking the contents daily. The flavor will change over time as the ingredients steep, so taste periodically, and strain and re-bottle when the flavor is to your liking. Alternately, you can keep the fruits and candy in the jar and add top off with additional rye as your mixture is depleted

Elderflower Gimlet
courtesy of Steve McDonagh
Yield: 1 cocktail

2 1/4 ounces Gin
1 ounce Elderflower Liqueur
3/4 ounce fresh Lime Juice
Lime Wheel; thinly sliced (for garnish)

Combine the ingredients in cocktail shaker filled with ice. Shake well. Strain into a chilled coupe and serve garnished with a floating lime wheel.

Kix Mix
courtesy of Steve McDonagh
Yield: 4 cups

I found a recipe from the 1950's that used Kix as a savory snack so I just expanded on the idea. It's a fun way to use breakfast cereals.

1 1/2 cups Kix Cereal
1 1/2 cups Cracklin' Oat Bran Cereal
1 cup Life Cereal
6 tablespoons Unsalted Butter
1 tablespoon Garlic Powder
1/2 tablespoon Onion Powder
1 tablespoon Salt
1/2 tablespoon Black Pepper
1 tablespoon dried Basil

Preheat the oven to 350°F.

Combine the garlic and onion powders, salt, pepper and basil in a small bowl.

Pour the 3 cereals into a large bowl. Melt the butter and drizzle over the cereals. Quickly add the spice mix and toss well to coat. Spread evenly onto a 12x18 cookie sheet and place in the middle of the oven. Bake 20 – 30 minutes, checking twice to move the cereal around so the edges don't burn.

Remove from the oven and let cool before serving. Store in an airtight container in a cool dry place.


RESOURCES

"The New Old Bar, Classic Cocktails and Salty Snacks from The Hearty Boys" is available locally in may bookstores and online at Amazon.com


APPEARANCES/BOOK SIGNINGS

Steve McDonagh of The Hearty Boys will be signing this book at the following locations:

Friday 11/30/12: The Book Cellar in Lincoln Park, 4736 N Lincoln, 7pm
Saturday 12/1/12: Binnys, 1720 N Marcy, 1-4pm


If you have any comments or questions, please send me an email at wayne@waynesweekend.com or follow me on Facebook or Twitter.