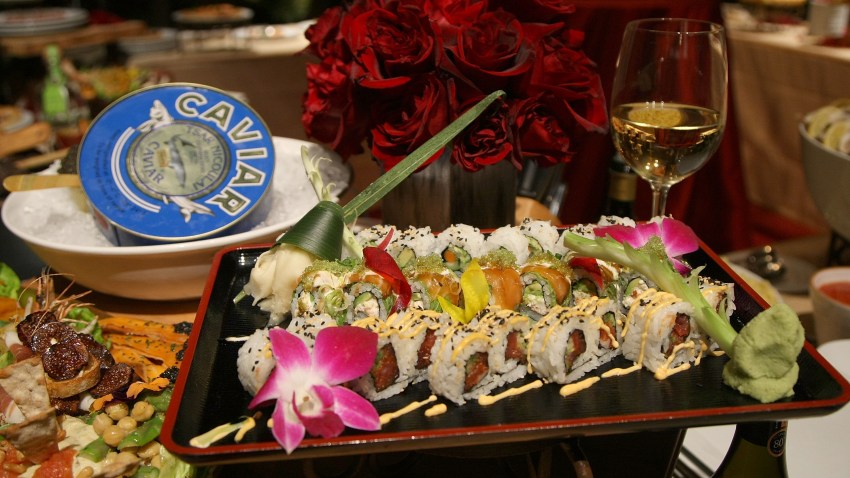 If you're feeling a little, how shall we say, less than enthused with your typical holiday meal this year, consider taking your staid traditions and turning up the heat. Escort the fam to South American-slash-Japanese hybrid restaurant SushiSamba Rio for a festive Christmas "omakase" menu. (If you google "omakase" like we just did, you'll find that the phrase translates to the "chef's choice" in sushi restaurants, meaning this is not your average run-of-the-mill meal.)
SushiSamba is featuring its special tasting menu as a twist on a traditional holiday dinner on both Christmas Eve (11:45AM until close) and Christmas Day (3PM until close), meaning no grocery shopping, prepping, cooking or clean up for you. The menu includes an organic beet salad (with sake-roasted baby beets, winter greens, cabrales cheese, caramelized brazil nuts and yuzu beet froth), a black beer-braised short rib, a special holiday sushi assortment and a blueberry "chinsuko yaki" (blueberry cobbler with doce de leite ice cream and milk-cinnamon foam). The $45 per person ($75 with sake pairings) menu even includes a complimentary holiday "sambatini" (a warm-your-soul concoction of Cabana cachaca, egg white, creme de cacao and lime juice, dressed with a chocolate drizzle).
Yes, it might take some convincing to get your brood to go the omakase route for Christmas, but remind everyone that change is good, especially this year.
Copyright FREEL - NBC Local Media