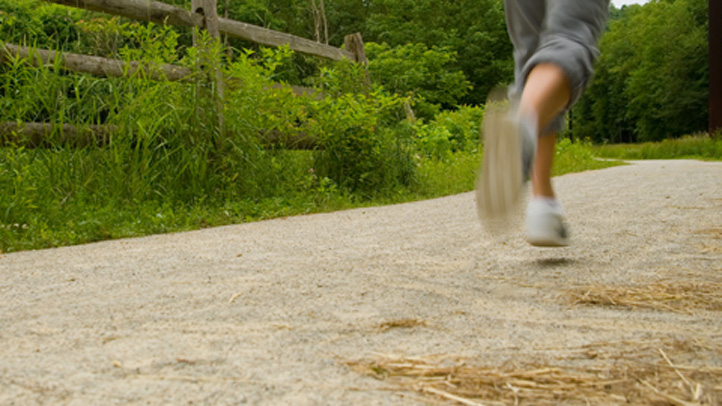 Swirlgear founder Lacie Whyte isn't your typical corporate CEO. She's one of us, a Chicago runner with a vision for women's apparel, and it all started with a run in 2007.
"I was running a race and it wasn't a great race, so I was taking my mind off of it by looking at what other people were wearing," she said.
She noticed that most running clothes weren't particularly stylish or tailored to women, so she decided to take matters into her own hands.
"Women's running is the fastest growing sport, and I just didn't feel like we were well represented," she said. "I came back to Chicago after my event and wanted to lay some groundwork to see if I could really do this."
Whyte met with a technical designer, went into production, and Swirlgear was born.
"We were picked up in 25 retailers and feedback was really positive, so at that point I decided to go full time," said Whyte. She left her job last December and re-launched Swirlgear at the 2013 Boston Marathon, the line's first reintroduction to the market this year.
With a team of just seven employees (three of which are part-time), Swirlgear is now in every state, with 30 retailers carrying their gear. They have 600 women serving as brand ambassadors and an online following of over 10,000. They've been approached by Runner's World, "Oprah's Favorite Things for Runners," as Whyte called it, and are launching a new lifestyle line this winter.
While Swirlgear may be nationwide now, they're still based in the Loop and Whyte is forever a Chicagoan at heart.
"There really aren't any athletic brands that are based here, and I wanted to build something here that could be really special," said Whyte. "Chicago is community driven, and people in Chicago are loyal. I felt like if I could develop something here, expanding it to different parts of the country would come naturally."
"The running community here is a small world, even though there are so many of us," she added. "It just shows how amazing our city is. You hear a lot of both tourists and locals running, and you see a lot of the same people running all the time. You really get that feeling of community."
And if you check out Swirlgear's website, you'll see Chicago prominently featured.
"When we were photographing last winter, it was freezing out, but it was so important to me to capture the city: our bridges, our architecture. It goes by what we believe, that this is where we started, and this is our home," Whyte said.
Even with her company growing by the minute, Whyte manages to carve time out almost every day to run her favorite route.
"My release five days a week is going for a run," she said. "My path is through Museum Campus and going north to see the whole skyline. The minute you go under Lakeshore Drive, you're coming out and you make that turn—I've had the fortune of running in many different places, but to me, there's no better running path."
You can find Swirlgear online, at both Universal Sole locations in Chicago, and at all Dick Pond retailers in the suburbs. Keep an eye out for reviews here later this month, and the lifestyle line set to hit stores this December.