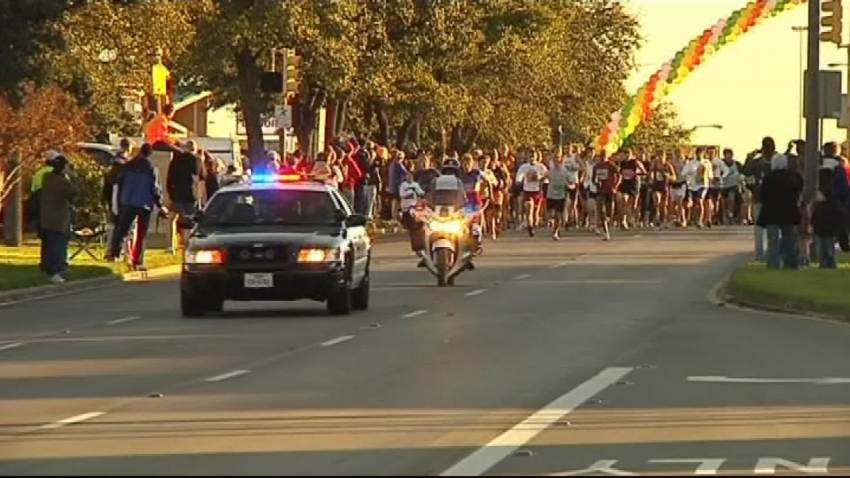 Looking to squeeze in a race before digging in on Thanksgiving? You're not alone! Thanksgiving has surpassed the Fourth of July as the most popular race day of the year, and 777,140 participants ran a race on Turkey day last year. There are so many races happening in the Chicagoland area this year in fact, that we broke them down by region. Here are the races happening in your neck of the woods on Thursday morning:
Chicago:
Chicago 8K Turkey Chase

- 9 a.m. at the Park at Lakeshore East (360 E. South Water St.).

Registration

is $45 to benefit CARA Road Scholars, and participants receive a race hoodie.

Old St. Pat's 28th Annual Turkey Trot

- 8 a.m. at Old St. Patrick's Church (700 W. Adams St.). Non-competitive 1-8 miles and free to participate, donation of canned goods suggested.

LifeTime Fitness Turkey Day 5K Run

- 9 a.m. beginning and ending at Cannon Drive (north of Fullerton) in Lincoln Park.

Registration

is $49 to benefit the Greater Chicago Food Depository, and a donation of two canned goods is suggested. Participants receive a long-sleeve shirt.

Edison Park Turkey Trot 5K

- 9:30 a.m. at the Edison Park Fieldhouse (6755 N. Northwest Hwy). Race-day registration is $25 to benefit the American Heart Association, and participants receive a t-shirt.

Riis Park Striders Thanksgiving Races

- Joe Mittel Memorial Mile at 9:45 a.m. and 5,000 meter Dick King Championship race at 10 a.m., both at Riis Park (6100 W. Fullerton). $3 for the mile, $5 for the 5K
North Shore:

North Shore Turkey Trot

- 5K at 7:30 a.m., 10K at 8:10 a.m. in Highland Park (Park Avenue and St. Johns on the Eastside Metra parking lot).

Registration

fees are $42 and $54 respectively, benefitting Black Diamond Charities, and participants receive fleece pajama pants.

Winnetka 5K Turkey Trot

- 9 a.m. at the Skokie Lagoons Trail.

Registration

is $35 to benefit the charity Wings, and participants receive a tech hat and can purchase a shirt.

Evanston Flying Turkey 5K

- 9 a.m. at Centennial Park (on Church and Sheridan).

Registration

is $35 ($40 on race day) to benefit the Harvest Food Pantry, and participants receive a shirt and goodie bag.
Western Suburbs
Northwest Suburbs:
Check one of these races out and give back to a good cause this Thanksgiving. We have much to be thankful for all year round, and running is one of those wonderful things for which we should be grateful. Keep that in mind this week and let us know-- will you be racing on Thanksgiving?