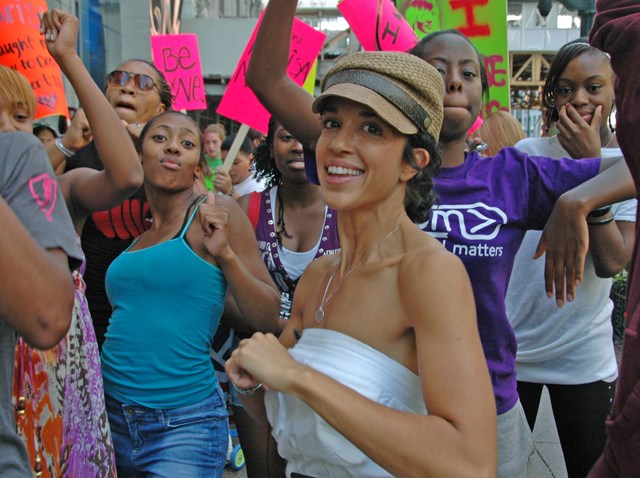 A billboard sitting near the corner of Chicago and Franklin right now is asking for votes, but it's not a politician's plea. Chicago's Maisha Wynn is one of thousands of people worldwide auditioning for a show on the Oprah Winfrey Network (OWN).

Chances are, if you have a Facebook or Twitter account, you've also been bombarded with requests over the past few weeks to vote for a friend's online submission.

And many Chicagoans, like Wynn, are pulling out all the stops. She's spent thousands of dollars on the billboard, t-shirts, postcards and even a PR agency. (View video submission)

"I am investing in myself. I am a walking brand, I am a Fortune 500 company," says Wynn, who works in advertising for Uptown magazine.

Applicants were allowed to submit videos through the Web site or attend open casting calls in New York, Dallas and Atlanta. Ten people will eventually be chosen from both pools of people to compete in a Mark Burnett-produced reality show, with the winner getting an OWN show.

Marisa Molinaro is taking a different approach to pitching her idea for a teen-oriented talk show. On Wednesday, she held a raucous rally along State Street with a couple dozen teens, some of whom she mentors. (View video submission)

"I want to create a platform so teens can learn from each other," Molinaro says. "I want them to know that opportunities exist."

Saudia Davis' quest for her OWN show took her to the New York auditions. The founder of the local youth organization Smarty Pants Are Leaders was hand-picked by an OWN executive at the audition, and received a call back the next day.

She's anxiously awaiting word on whether she'll get the call to LA for further interviews. (View video submission)

"My show is called 'Live Now' -- think Oprah meets 'Fear Factor,'" Davis says. "The whole idea is that people should really be able to be who they truly are and not be bound by fear with what they want to do."

Online voting for the contest ends on Saturday.