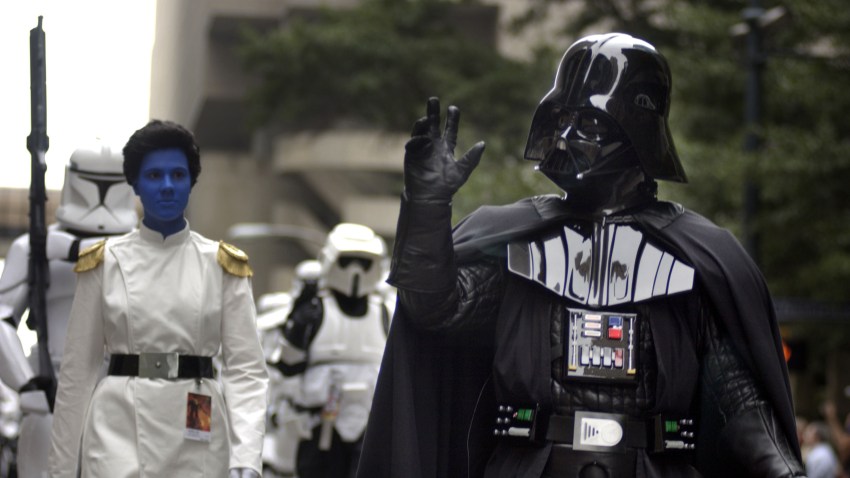 BREAKFAST WITH VADER: The Chicago Toy And Game Fair goes down at Chicago's ninth ring of hell, Navy Pier. This two-day event includes a breakfast on Saturday with the 501st Legion: Vader's Fist, a "Star Wars" costume group. 600 E. Grand Ave.; Near North Side. Breakfast starts at 9 a.m. and is $25 for children under 13 and $30 for adults. Fair begins at 10 a.m. and is $5 for children and $10 for adults.
GET CRAFTY: It seems like there's always that one person who is impossible to find a gift for during the holidays. Thankfully, the DIY Trunk Show will open up shop at the Pulaski Park Auditorium, and there's bound to be some odd, crafty thing for that person who has everything. 1419 W. Blackhawk St.; Noble Square. Saturday. 10 a.m. to 5 p.m. Admission is free.
GO VINTAGE: And if you can't find anything at the DIY Trunk Show, stop over to the Modern Vintage Holiday Market at Plumber's Union Hall. As the name suggests, this events features vintage clothing, jewelry, art, and houseware items. 1340 W. Washington St.; West Loop. 10 a.m. to 7 p.m. Free parking. Admission is $8 in advance or $10 at the door.
LIGHT UP: Like a bad acid flashback, the Magnificent Mile Lights Festival always seems to pop up unexpectedly. This two-day suburbanite attraction is mostly known (aside from the amount of sweat pants) for the parade led by Mickey Mouse, which is followed by fireworks. Check the Lights Festival Web site for a complete list of events.
LIVING DEAD GIRL: Rob Zombie takes time off from making B-rated horror movies (or just remaking them) to stop by the Aragon. Openers include Captain Clegg And The Night Creatures and Nekromantix. 1106 W. Lawrence Ave.; Uptown. 6:30 p.m. $35. All ages.