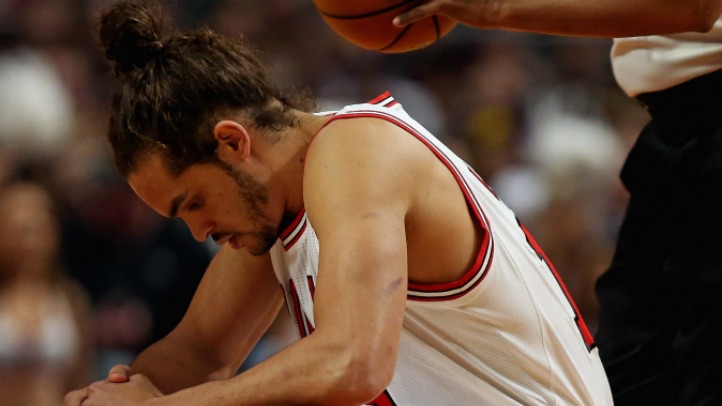 Joakim Noah's problems with plantar fasciitis have been well documented. It's been an issue the center has had going back a few years, but this season, it seems as if it's reached a critical point. After being forced to sit out a number of games late in the season, according to the Chicago Tribune, Noah may be severely limited in the Bulls first round series with the Brooklyn Nets beginning on Saturday.
"It's really disappointing for me," Noah said following practice at the Berto Center on Friday. "You work really hard in the summer and the season to be ready for situations like this, and just to be hurt is really disappointing. It is what it is. We fought hard to get here, and we're a very capable team. It's going to be an exciting series against Brooklyn."
Noah didn't participate in practice and has been taking anti-inflammatory medicine, taking cortisone shots and undergoing PRP (platelet-rich plasma) therapy to try and keep his plantar fasciitis manageable and get him back on the court. In the last two regular season games, Noah has come off the bench each time he's played no more than 14 minutes.
The All-Star seems to be resigned to his fate while describing the extent of his injury, but in spite of his disappointment, he feels confident in his teammates to still go out there and play hard and he'll try to help them out as much as his body allows.
"It just flares up on me," Noah said. "Even in the limited time I had in the last two games, it wasn't pretty. It's painful and I'm just trying to find solutions. It's tough, but at the end of the day it's not about one player. I'm really proud of this team. I think we put ourselves in a pretty good situation right now, and I think we're a very capable group regardless. But I definitely want to be there and help as much as I can.
"I mean I've got a tear in my foot, I've got a tear in my foot. It is what it is. I'm upset at myself because I let this linger for a long time and I have no one to blame but myself. I just wish I was a little bit smarter. I played games in the regular season that I probably shouldn't have played, and it's going to be tough but these are the cards I was dealt.''
Normal 0 false false false EN-US JA X-NONE /* Style Definitions */ table.MsoNormalTable {mso-style-name:"Table Normal"; mso-tstyle-rowband-size:0; mso-tstyle-colband-size:0; mso-style-noshow:yes; mso-style-priority:99; mso-style-parent:""; mso-padding-alt:0in 5.4pt 0in 5.4pt; mso-para-margin:0in; mso-para-margin-bottom:.0001pt; mso-pagination:widow-orphan; font-size:12.0pt; font-family:Cambria; mso-ascii-font-family:Cambria; mso-ascii-theme-font:minor-latin; mso-hansi-font-family:Cambria; mso-hansi-theme-font:minor-latin;}
Follow Outside Shot on Twitter (@Outside_Shot) for more Bulls news and information