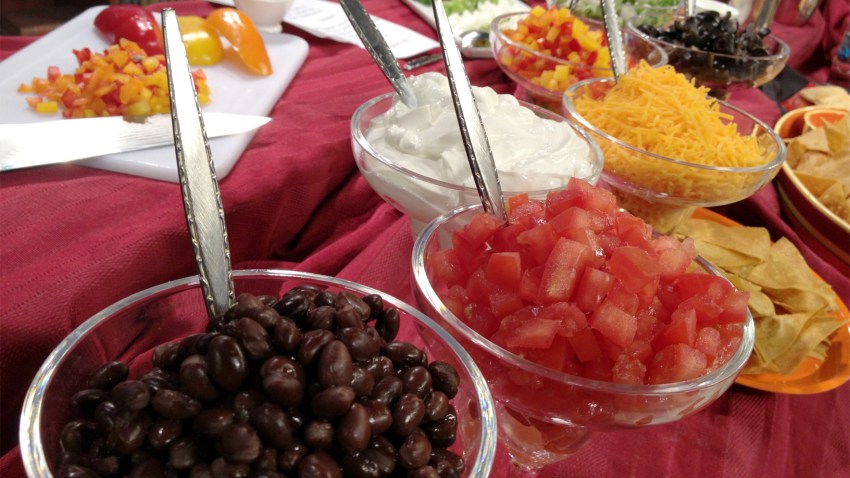 This year, for a Cinco de Mayo celebration, I received some great ideas from my friend Joey Chiappetta. Joey suggested deconstructing a 7 layer dip so your guests are engaged in the process of creating their own appetizer. Fun idea. And, it also makes a colorful presentation. In addition to that, I added my simple margarita recipe, spicy guacamole, and an empanada filled with plantains sauteed in butter and sugar and chocolate chips. With a little festive music, this makes for a fun celebration.

Deconstructed 7 Layer Salad
courtesy of Joey Chiappetta

Ingredients

2 bunches Scallions, sliced with some of the green portion
1 each small Yellow, Red and Orange Pepper, diced
1 tsp Red Wine Vinegar
8oz Sour Cream
16oz Shredded Cheddar Cheese
1 can Black Beans, rinsed and drained
1 can Black Olives, rinsed, drained and chopped
1 lg Tomatoes, seeded and chopped
7 medium sized bowls or margarita glasses
Tortilla Chips

Method

Mix together the diced yellow, red and orange pepper. Add red wine vinegar and toss to combine. Place in one of the 7 bowls or margarita glasses. Place the other ingredients in each of the remaining containers. To serve, arrange the 7 containers in a row on a buffet or serving table along with a bowl of tortilla chips. Give your guests bowls and instruct them to place chips in the bottom and then add the ingredients of their choice on top for their own "do it yourself" dip.

Plantain & Chocolate Chip Empanadas

Ingredients

Pastry

2 1/2 cu All Purpose Flour
6 oz Cold Cream Cheese, diced
3/4 cu Cold Butter (12 tablespoons), diced

Filling

1 lg Ripe Plantain (yellow), or two small to medium ones
1 tbl Buter
1 tbl Granulated Sugar
1 cu Semi Sweet Chocolate Chips
1 lg Egg
1 tbl Water
Powdered Sugar (optional) for garnish
Maple Syrup or Honey (optional) for dipping

Method

Combine flour, margarine and cream cheese and mix together with your hands, breaking margarine and cream cheese down into smaller bits. Continue blending until the flour has been incorporated and dough holds together into a smooth dough. Divide the dough into two equal parts. Roll each into a ball and flatten slightly. Wrap each in plastic and refrigerate for an hour. Working with each half, roll the dough out on a lightly floured board to about 1/16" thickness. Cut 4" rounds from the dough using a cookie cutter. Continue to rework scraps to make as many rounds as possible. The two balls of dough should yield about 32 rounds (amount will vary depending on the thickness). The rounds can be stored in layers separated by wax paper in an airtight container in the refrigerator until ready to use.

Slice the plantain on a angle in quarter inch slices (to create oval shapes as opposed to circles). You'll need 16 slices to fill the 32 empanadas. Heat the butter in a saucepan over medium high heat. Add the plantain slices and sprinkle half of the sugar on top. Immediately flip them and sprinkle the second side with the remaining sugar. Saute for about 1 1/2 minutes until the first side is golden brown. Flip them again and saute for an additional 1 1/2 minutes. Remove the slices to a sheet of wax paper and allow to cool slightly. Slice each piece in half, lengthwise, to yield 32 pieces.

To assemble the empanadas, place a round on a lightly floured board. Fill a small bowl with water and set it near your work surface. Place a plantain slice near the center of the round and top it with 10 chocolate chips. Dip your finger in the water and wet the outer edge of the round. Fold the dough over the filling and gently press the palm of your hand over the entire empanada to form a crescent shaped cover over the filling. Press the edges together and use a floured fork to crimp the edges and form a seal. Repeat with the remain filling and rounds.

Preheat oven to 350 degrees F. Whisk the egg with 1 tablespoon of water. Place empanadas on a baking sheet. Brush each with the egg wash and bake for about 20 minutes or until light golden brown.

Once empanadas have cooled slightly, sprinkle with powdered sugar and serve as is or with honey or maple syrup. These can be served warm or at room temperature.

Margaritas

Ingredients

1 part Tequila
1 part Limeade frozen concentrate, melted
1/2 part Lemon Juice
1/2 part Triple Sec

Using the formula above, I'll take a 12 ounces can of limeade concentrate (undiluted) and pour it into a pitcher. Using the limeade can, I'll measure 12 ounces of tequila and add it to the pitcher. Then I'll fill the can halfway with triple sec, top it off with lemon juice and add that to the pitcher. This is you basic margarita mix.

For frozen margaritas, fill a blender container about 1/2 to 2/3 full with ice. Pour the mixture until it reaches half the level of the ice in the blender. Blend until smooth and pour into a glass. Garnish with fresh limes.

For margaritas on the rocks, place about 1 1/2 cups of ice in a shaker. Add about 4-5 ounces of margarita mix. Shake vigorously and pour the entire contents in to a glass. Garnish with a slice of lime and enjoy.

Guacamole

Ingredients

2 lg ripe Avocados, peeled and seeded
Juice of 1 Lime
1/2 tsp Salt
1/2 tsp Cumin
1/2 tsp Chili Powder
1 jalapeño, seeded and minced
1 sm Onion, finely chopped
2 med Tomatillos, finely chopped
1/4 cu fresh Cilantro leaves, chopped
A few extra Cilantro Leaves, for garnish

Method

Combine ingredients in a large bowl. Check for seasoning, garnish with cilantro and serve with tortilla chips.

Thanks again to my friend, Joey Chiappetta, for his ideas. If you have any questions or comments, please send me an email at wayne@waynesweekend.com or follow me on twitter or Facebook.