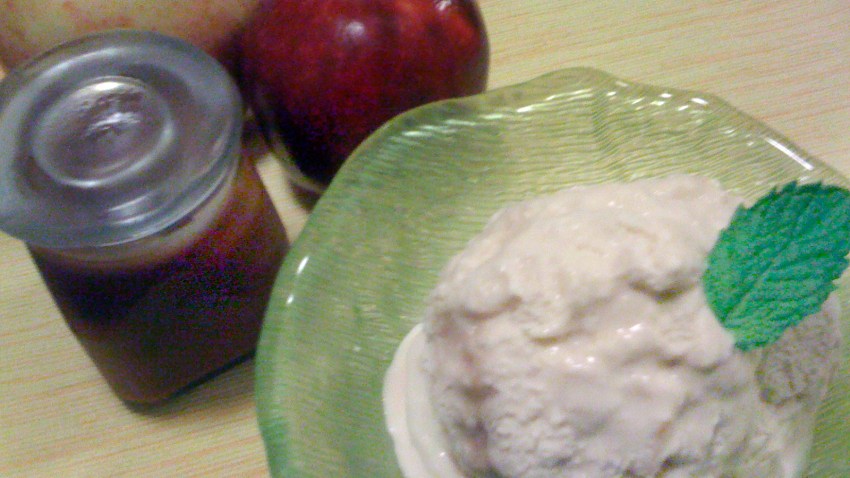 Hot summer days are perfect for homemade ice cream or a simple treat of fresh berries with cookie crumbles topped with panna cotta. So, here's a little help with both. I've always love caramel apples in the fall so I thought I create an ice cream version to enjoy on a hot summer night. This caramel sauce is easy to make as long as you are careful and follow the basic steps. If you like it, you might want to make a little extra as a topping for other desserts. Additionally, with blackberries, raspberries and blueberries abundant in grocery stores and farmers markets, I created a "handy" way to enjoy them with your family and friends.

Caramel Apple Ice Cream

Ingredients

Caramel Sauce

1 1/2 cu Granulated Sugar
1/4 cu Water
1 1/4 cu Heavy Cream

Custard

2 cu Heavy Cream
1 cu Whole Milk
1/2 cu Carmel Sauce (from Above)
2 med Apples, peeled, seeded and finely diced (I used Gala)
1/2 tbl Salted Butter
4 lg Egg Yolks
2 tbl Sugar
1 tsp Vanilla Extract

Method

Caramel Sauce (please read and follow instructions carefully)

Place sugar and in a large saucepan. Bring mixture to a boil over medium high heat, stirring to dissolve sugar. Once the mixture reaches boil, stop stirring and let mixture cook until it reaches an amber color, about 5-7 minutes. Be careful not to let the mixture burn. Remove pot from heat. THIS MIXTURE IS VERY HOT AND IT'S IMPORTANT TO BE CAREFUL WITH THIS NEXT STEP! Pour cream around the edge of the pan while stirring mixture with a long wooden spoon. The mixture will bubble up to over three times its volume and steam will rise (that is why you want to use a large saucepan). Be prepared for this and keep you hands away from being directly over the pot. Continue stirring until bubbles subside. Return pot to a very low simmer and stir until mixture is smooth. Remove from heat and pour sauce into a heat proof container and allow to cool. If you have undissolved bits in your mixture, you can stain it into the container if you like. Pour 1/2 cup of the sauce into a separate container. Cover the remainder and place in the refrigerator to chill for at least two hours.

Custard

Saute apples in butter and sugar in a saucepan over medium heat until tender, about 12-15 minutes. Don't let apples brown. Remove from heat, cover and refrigerate until ready to use.

Pour cream, milk and caramel sauce into a large saucepan over medium heat. Stir to fully incorporate all ingredients. Adjust temperature so that mixture doesn't boil. Meanwhile, vigorously whisk together egg yolks and sugar until mixture is silky and creamy. While still whisking, pour about 1 cup of the hot cream mixture into the eggs to temper them. Once incorporated, pour the entire egg mixture back into the pot and continue to cook without boiling until mixture thickens slightly and coats the back of a spoon. If you have a thermometer, you want the mixture at 175 degrees F. Remove from heat and add the vanilla extract. Strain the mixture into a container. Place a piece of plastic wrap directly onto the surface of the mixture so that a film doesn't form. Refrigerate for at least 2 hours to overnight.

Place custard mixture into an ice cream maker and freeze according to instructions. Add apples a few minutes before the freezing process is concluded. Before adding the caramel, you want the mixture a bit harder than the soft serve stage. Place the ice cream in the freezer for about an hour. Then transfer 1/4 of the mixture to a new container, cover with 1/3 of the caramel sauce. Repeat this process, ending with ice cream. Place ice cream back in the freezer until ready to serve.

Fresh Berry Cones

A simple treat using fresh summer berries is simply to put an assortment of blueberries, raspberries and blackberries into a paper cone, much like those used for snow cones. Add some cookie crumbles, like shortbread or butter cookies, and then top with non-fat yogurt or, if you wan to be a bit decadent, a little panna cotta. Garnish with some fresh mint and you have a tasty and handy treat.

I made my own paper cones by just cutting up freezer paper. If you'd like the basic instructions, you can get them on my Facebook page.

If you have any questions or comments, please send me an email at wayne@waynesweekend.com, or follow me on Facebook.