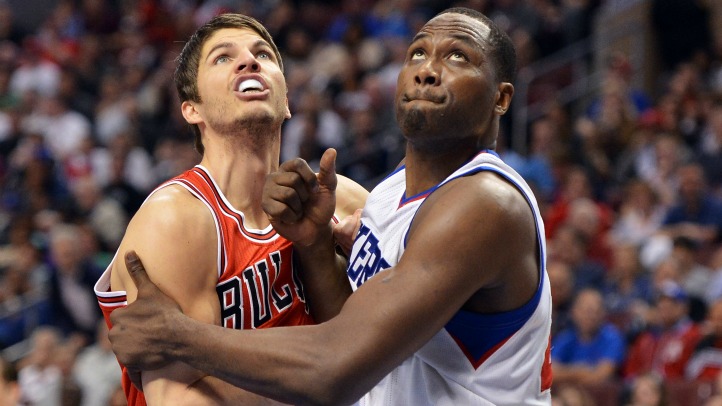 Just like Tuesday night's Game 5, the Bulls' backs are against the wall as they face an elimination game – this time on the road – against Philadelphia.
Playing at home in the United Center is one thing, but playing in Wells Fargo Center, where the crowed actually cheered when Joakim Noah severely sprained his ankle in Game 4, is another. To say that the fans in Philly will be hostile is an understatement.
The Bulls have a couple things working in their favor, though.
1. The Sixers are a young team and none of the players on the current roster have any experience being in a position to close out a team and move on to the next round. In fact, the Sixers haven't advanced past the first round of the NBA playoffs since 2003 when Larry Brown was the coach and Allen Iverson was still relevant.
The Sixers may be more inclined to play loose and free because they're at home, but they missed a golden opportunity in Game 5 and the danger of that is they've allowed Chicago to regain their confidence going into Game 6.
2. The Bulls are going to employ the same physical style of basketball that helped them win Tuesday night. Doug Collins credited them for it, but Philadelphia's Spencer Hawes seemed to be caught up in it.
"It's a physical series," said Hawes after Game 5. "If that's how it's going to go, we can play that brand of basketball."
But prior to Hawes making that statement, Collins asserted that his team just isn't built that way.
"We're not a big, physical team," Collins said during his postgame presser. "We cannot play out of character and go play smash-mouth basketball. You can't let one game get you going in the wrong direction."
Perhaps Hawes was speaking out of frustration because of the long, red scratch marks down the left side of his face that he received at some point during Tuesday night's game. But his comments give you a glimpse into their youth and their seemingly, "eye for an eye" mentality. That's exactly what Chicago wants.
The Bulls are a veteran ball club that won't let teams get them out of character. The young Sixers still have a lot to learn on that front.
Of course, all of this is merely speculation. We'll find out how both teams will respond tonight. It's definitely something that's worth keeping an eye on.