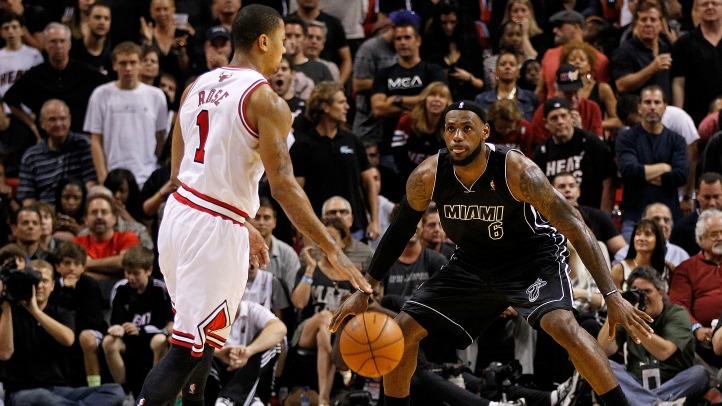 Update: Bulls Beat Heat in OT...

No matter how many victories the team racks up, the only games Bulls fans care about – the only ones that really matter – are the contests against the Miami Heat.

Tonight at the United Center, Chicago and Miami will go head-to-head for the third time this season.
In their first meeting back in January, Chicago came within two made free-throws by Derrick Rose to pulling out a huge win on the road. To come so close and to lose by just four points was a positive sign considering the Heat were at full strength and the Bulls had to play without Luol Deng who was sidelined with a wrist injury.

That game illustrated how small of a gap exists between the two teams: a lot smaller than people realized or even thought possible.
In their second meeting last month here in Chicago, the Bulls beat the Heat while they were even more short-handed than before. Rose missed the first of what would ultimately be 12 consecutive games while trying to recover from a strained groin. His supporting cast stepped up big time, especially fan favorite John Lucas III who came off the bench to score 24 points, leading the way for Chicago in scoring.
Thursday night's contest is different because there is a lot at stake.
With a victory, the Bulls would clinch the Central Division title and be in the driver's seat for the top seed in the Eastern Conference. That would give them home court advantage all the way through the playoffs to the Eastern Conference Finals. Rose could also be back in action for Chicago after missing Tuesday night's game against the New York Knicks with an ankle injury sustained on Sunday against the same team. Tonight's game has all the makings of must-see TV.
Despite Chicago's lead in the standings, Tom Thibodeau remarked after Wednesday's practice that the Heat aren't chasing the Bulls, but vice-versa.
"We're chasing them," said Thibodeau. "They're the Eastern Conference champions. We're chasing them. That's the way we're looking at it. That's the reality of it."
While Thibs has a point, the fact remains Miami is looking up at Chicago right now.

With a three-game lead over the Heat and just seven games left to play (including a fourth and final matchup against Miami next month), a victory tonight all but puts the No. 1 seed out of reach for the visitors from South Beach. That means for them to make it to the NBA Finals, Miami will have to bring their talents to the West Side of Chicago for a second consecutive season in order to get there.
Unfortunately for them, this year's Bulls squad is vastly improved over the one they saw last year.