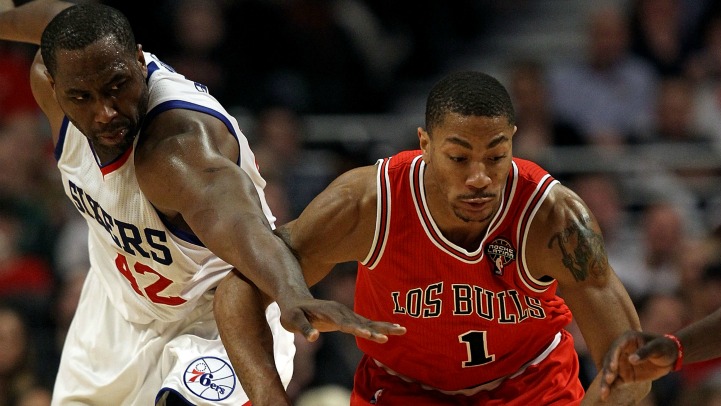 Forget all of the potential Chicago Bulls playoff scenarios you read Monday, including the ones that laid out a potential "I-94" series in the first round against the Milwaukee Bucks.
The Philadelphia 76ers did what they were supposed to do – and expected to – by beating the Nets in the last game New Jersey will ever play in the Garden State. After 35 years, the team is moving to New York and will become the "Brooklyn Nets" for the 2012-2013 season.
Milwaukee needed to win all of their final regular season games to keep their playoff hopes alive, and they needed some help from the Sixers. But Philly would not comply.
That means the Sixers will most likely be the Bulls' first-round opponent once the playoffs start this weekend. Of course Chicago must still win one of their last two games and they need the Miami Heat to lose one of their last two games to make that happen. But hopefully the Bulls will be able to secure the No. 1 seed Wednesday night against the Indiana Pacers. If not, they'll have one more shot at it on Thursday night against the Cleveland Cavaliers.
If the Bulls do come away with the No. 1 seed as expected and face the 76ers in the first round, remember Chicago won the season series 2-1 against Philly this year. Of course regular-season success isn't an indicator of postseason success, but this is all about matchups and Chicago definitely has an advantage over Philadelphia in that regard.
After Monday's Bulls practice, Brian Scalabrine briefly gave his thoughts on what bodes well for a team going into the playoffs as legitimate NBA Championship contenders. He should know.
In case you forgot (and we won't blame you if you did), Scalabrine won a championship as a member of the Boston Celtics that defeated the Los Angeles Lakers in six games back in the 2008 NBA Finals.
"Having good players, having guys committed and having guys sacrifice," said Scalabrine. "Those are the things that I've noticed on the the teams that I've been on that have won."
"Whether they're the No. 1 seed or not the No. 1 seed, the teams that make the sacrifices are the teams that make it," he said.
Bulls fans, consider yourselves lucky. You've just received some sage NBA wisdom from "The White Mamba."