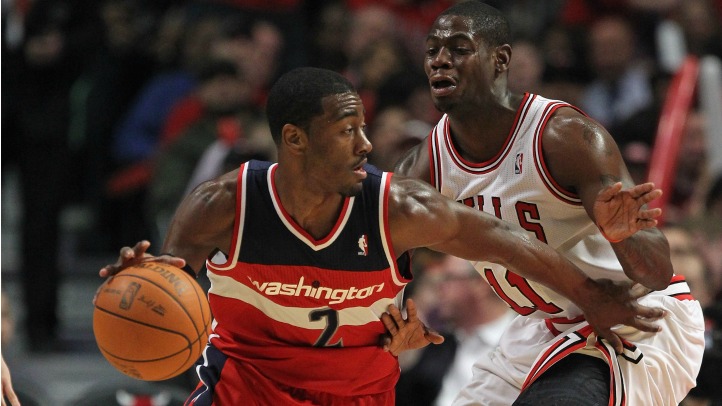 Chalk up Monday night's Bulls loss at home to the Washington Wizards as one of the most disappointing of the season. Washington came into the game 0-16 on the road against teams above .500 and this game should have been an easy win for Chicago.
It's been said before, but it bears repeating: teams with nothing to lose at this point in the season are the most dangerous. Chicago should have been on guard in this game and came out ready to play. But they didn't, and as a result, the Wizards are now 1-16 on the road against teams with winning records.
How did Chicago lose? Let's take a closer look:
No Derrick Rose or Luol Deng
Rose (foot) and Deng (ribs) were scratched from the lineup due to injury ... again. But let's be honest, the Wizards are so bad the Bulls shouldn't have even needed them to get the W last night. After playing so well without both All-Stars at various points in the season, being without both guys for one game against a terrible team shouldn't have been that difficult a thing to overcome. But it was. Maybe taking the floor without their two All-Stars at least being present on the bench affected their psyche? Maybe they just didn't come to play. Who knows?
Kevin Seraphin
Seraphin has been the lone bright spot of late for Washington and none of Chicago's big men could handle him. He torched Chicago with 21 points, 13 rebounds and 5 blocks. He completely dominated the game on both ends, so much so that CSN Chicago named him the player of the game. It doesn't get any more embarrassing than that for the Bulls.
Joakim Noah
After playing so well the night before against the Detroit Pistons, Noah followed that up with a lackluster performance, specifically on the offensive and defensive ends of the floor. He registered just 6 points in the game and was also tasked with the defensive assignment on Seraphin, his teammate on the French National Team in the Olympics this summer. We saw how that turned out.
The Bench Mob vs. The Wizards Bench
The Bulls reserves, generally known as the best in the NBA, absolutely stunk it up last night. They scored a combined 17 points on 5-18 shooting. Meanwhile, Washington's bench players put up 35 points, led by Maurice Evans with 14. It was yet another disappointing example of how no one on the Chicago Bulls roster came to play last night.