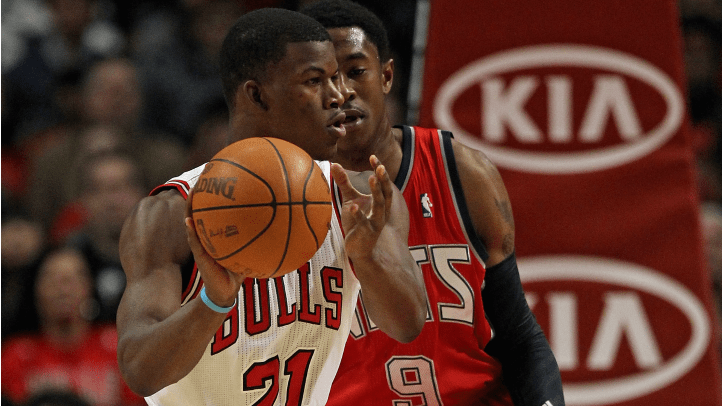 Second-year Chicago Bulls swingman Jimmy Butler didn't see a lot of time on the court as a rookie during the 2011-12 season. During the Bulls' 66-game schedule, Butler appeared in 42 contests, averaging just 2.6 points and 1.3 rebounds in only 8.5 minutes per game.
But with the departure of Ronnie Brewer and Kyle Korver -- the primary backups for Luol Deng last season -- Butler will be relied upon a lot more and will step into an increased role this season. After a summer of working on his game, including a strong showing in the Las Vegas Summer League, the Marquette alum is ready for the challenge and the increased responsibility.
"[An increased role] is what I've been working towards all summer," Butler told NBC Chicago. "That's what I've always wanted to do, be a contributing part on a winning team – a championship caliber team. And I'm here. So why not be excited about being counted on to contribute more? My teammates know that I can do it. The coaches know that I can do it. And I know that I can do it."
After the June press conference to introduce new Bulls rookie Marquis Teague and once the court cleared, Butler came out of the locker room at the Berto Center and began working out with assistant coach Adrian Griffin on his outside shot. His ability to shoot with any range was the part of his game that was shaky, at best, last season. Butler says he worked the hardest on his outside shot and thinks it was the biggest improvement he made over the summer.
"I feel like I can shoot it, it's just my confidence. I've gotta be able to take those shots in the game and not only take it, but know that I can make it in a game," he said. "Anybody can take a shot, but who can make it? And whenever you make it, now what? Now the defense has to respect your drive. Now they have to respect your shot. Now they don't know how to guard you. And that's what all the great players in this league can do. So hopefully one day, I can be a great player."
Although he has lofty goals individually, from a team perspective, Butler understands that everybody needs to take baby steps with a roster full of new players. Chemistry has been a hot topic surrounding this team, but Butler feels it's a process and they're all working to get where they need to be.
"We're building up on [the chemistry]. We've been working at this thing for a few weeks now; getting in here, seeing everybody work out, seeing how they shoot, where they like the ball on the floor and just really talking and asking each other. So now, when the games come, we know who likes the ball where. I think that's part of being on a team. You've got to know your teammates in-and-out, just like they have to know you."