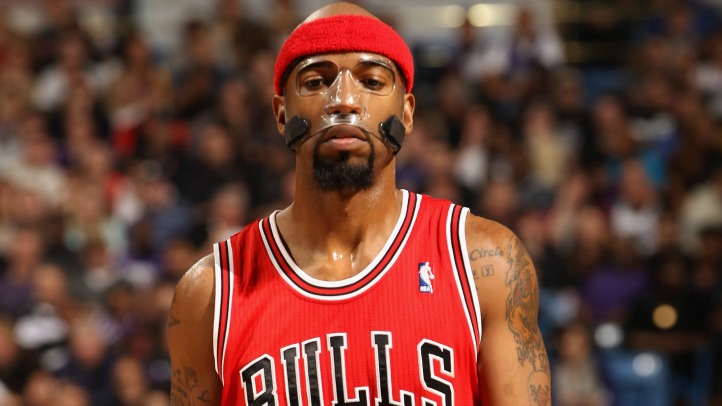 If the Chicago Bulls are going to advance deep into the Playoffs again this year, get past the Miami Heat and ultimately win an NBA Championship, they're going to need contributions from every player on the roster, down to the 12th man.
Now that might be overstating things just a bit, but the team is definitely going to need big contributions from their core players, especially Rip Hamilton, who was the Bulls key free agent acquisition last summer.
So far Rip's first season in Chicago has been a major disappointment as he's already missed half the year with a myriad of injuries. But since returning to the lineup a week ago, Hamilton's play has been nothing short of horrendous.
In three games since coming back he's scored a grand total of 22 points and made just nine shots on 26 attempts. Like Derrick Rose, Hamilton has some obvious rust to shake off after missing so many games, but there's no doubt he's a much better player than what he's shown this season.
Fans, of course, were never convinced that Rip Hamilton was the answer the Bulls were looking for when trying to figure out how to knock off Miami, the defending Eastern Conference Champs. And while Hamilton may not have been the "ideal" choice to fill Chicago's gaping hole at the shooting guard position, his veteran presence, leadership and overall basketball smarts seemed like a good enough advantage to help the team get where they're trying to go.
But so far, the Rip Hamilton experience has been underwhelming at best.
He's played in just 19 games this season and is averaging slightly less than 11 points per game, a career low. In fact, his numbers are down in a number of key areas but none more apparent than his free-throw shooting. He's currently averaging just 77 percent from the line after shooting almost 85 percent last season. But more importantly, he's averaging just 1.2 attempts per game.
That's very unlike Rip who created a reputation over his career for being aggressive offensively. But his free-throw numbers indicate a complete lack of aggression in his game and a clear sign that he's not attacking the basket, but shooting jump shots. That's not going to get it done.
Whatever the reasoning behind his current struggles, Chicago is going to need Rip to use the last 10 games on the regular season schedule to get himself back into shape and show glimpses of the Rip Hamilton of old in the Playoffs.