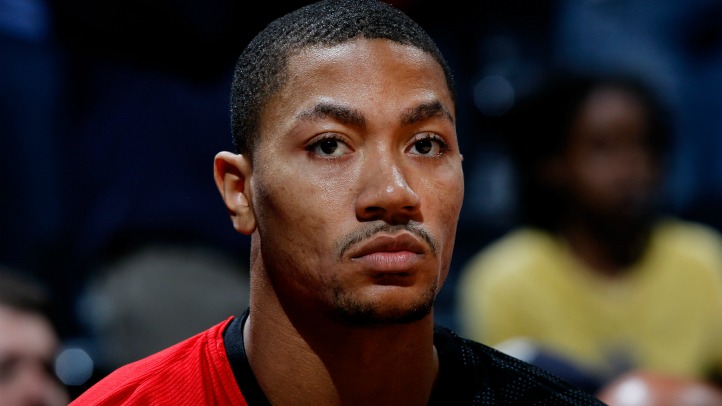 The Bulls and Thunder are a lot of people's dark horse favorites to meet in the NBA Finals come June.

But with Derrick Rose out of the lineup for the 10th consecutive game and an uncommonly lackluster effort from Luol Deng, Carlos Boozer and Joakim Noah, Sunday's matchup quickly became a lopsided affair.

Oklahoma City dismantled Chicago and walked away with a 92-78 victory, a final score that wasn't nearly reflective of the beat down the Bulls took who found themselves down as many as 30 points.
OKC's All-Stars Kevin Durant and Russell Westbrook did just about all of the damage for the Thunder as the pair had actually outscored the Bulls at one point in the 3rd quarter, 53 to 51. The hard-nosed and gritty defensive mindset that Chicago has been known for under Tom Thibodeau was nowhere to be found as the Thunder's young superstars had their way offensively and Chicago suffered its most embarrassing loss of the season, by far.
Bulls fans can look no further than the aforementioned Deng, Boozer and Noah when attempting to ascertain what went wrong inside Chesapeake Energy Arena. The trio combined to score just 21 points and grabbed 16 rebounds (none from Deng), tallies that are totally unacceptable when you consider Boozer himself has put those numbers up in an NBA game.
Deng, long known for being an elite defender on the perimeter, could do absolutely nothing with Durant, and it didn't take long for Westbrook to realize that with Rose out, he could easily dominate both CJ Watson and John Lucas III. Oklahoma City was just the better team and executed with precision both offensively and defensively.
But Bulls fans needn't worry. One bad loss is no reason to panic and the big picture is all that matters. Chicago's situation is littered with positives, the biggest of which are Derrick Rose's absence and the superb play of the team as a result.
D. Rose hasn't seen NBA minutes since March 12 and in that stretch his supporting cast won seven games including an emotional victory over the Miami Heat, a blowout win on the road in Orlando and a statement win against the much improved Philadelphia 76ers.
Even more impressive, the Bulls have had to play 20 games this year without the services of their MVP and they've gone a remarkable 15-5.
20 games. That's almost 1/3 of the lockout shortened season and Chicago hasn't missed a beat without its superstar leading the way. Oh, and in case you hadn't noticed, last summer's free agent acquisition, Rip Hamilton, hasn't played very much either. All of this and these Bulls are in the same place they were last year: sitting atop the NBA standings.
It's scary to think but this team might actually be better than the one that won 62 games and made it to the Eastern Conference Finals a year ago. The supporting cast is playing with confidence and they've proven they can carry their own weight. There's also plenty of time for both Rose and Hamilton to get healthy and get a few regular season games under their belts to shake the rust off and gear up for another deep Playoff run.
So put Sunday out of your minds, Bulls fans and remember, Miami and Orlando lost their games on Sunday too.
Bryan Crawford, a Chicago native and lifelong Bulls fan, is a contributor for SLAM Magazine and a freelancer for RedEye's sports section.