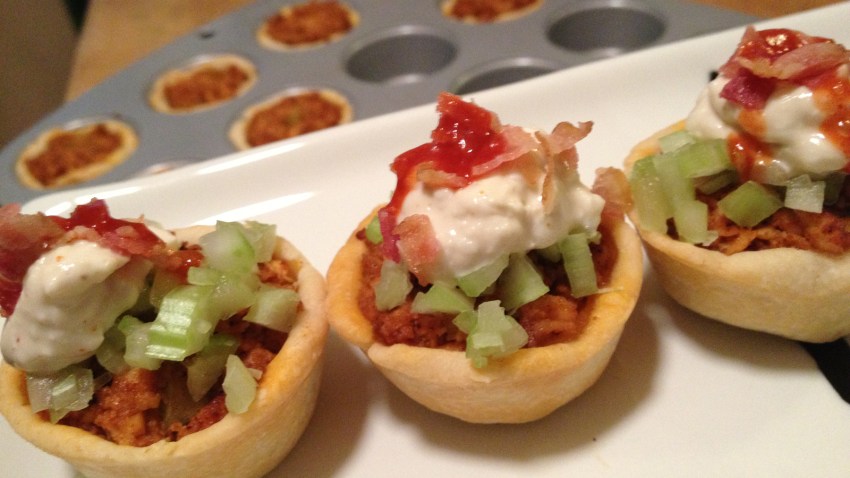 Whenever I invite friends over to watch a football game, I like to prepare food that is easy to eat with your hands. One of my favorite snacks is buffalo wings, but they can be rather messy to enjoy while sitting on a couch watching TV. So, I created what I call "Buffalo Bites". These are mini pastries filled with all the spicy flavors of traditional buffalo wings but in a portable easy to each size. For a big event, like a Super Bowl party, they can be the main attraction and then be surrounded by some of the more traditional snacks like guacamole, chips, salsas and even fresh vegetables and dip.

Wayne's Buffalo Bites
makes 24 mini pastry cups

Ingredients

Crust

1 1/4 cu All Purpose Flour
6 tbl cold Butter, diced
3 oz Cream Cheese

Filling

1 package Precooked Chicken, 9oz size
1/2 cu Onion, finely chopped
1/2 cu Celery, finely chopped
1 tbl Butter
1 tsp Chili Powder
2 tbl Louisiana Hot Sauce

Topping

1 Celery Stalk, finely minced
1/2 cu Crumbled Blue Cheese, finely minced
1/2 cu Greek Yogurt
3 strips Cooked Bacon, chopped
Additional Louisiana Hot Sauce

Equipment

24 cup mini muffin pan

Method

Prepared the crust by placing the flour and butter in a food processor. Slice or pull the cream cheese into small pieces and add it to the food processor as well. Process the ingredients until they come together and form a ball. Remove the dough, gathering any extra bits, and wrap it in plastic. Refrigerate for 30 minutes. If you don't have a food processor, simply cut the butter into the flour and mix in cream cheese with your hands until it forms a smooth, fully incorporated dough. Wrap and refrigerate.

After it has chilled, divide the dough into 24 equal portions. Flatten each portion into a circle and press it into the bottom and sides of one of the muffin pan cups. Repeat with the remaining dough. Set aside. Preheat oven to 350 degrees F.

Place the chicken, onion, celery, butter, chili powder, and hot sauce in a food processor. Pulse until ingredients are evenly chopped and well mixed. Don't over process the ingredients. Spoon the mixture into each dough lined cup and lightly pack it in so there's limited excess above the rim. Bake for 20 minutes.

Meanwhile, combine the finely chopped blue cheese with the greek yogurt. Place in a sealable bag and cut a small opening in one corner so that you can squeeze portions of the mixture out of the bag.

Remove the buffalo bites from the oven. Use a fork or a wooden skewer to carefully remove the bites from the muffin pan and place them on a serving platter. Sprinkle a bit of celery on each piece, add a squeeze of blue cheese mixture and then top with bacon bits. For final presentation drizzle a little hot sauce over each buffalo bite. Server warm.

If you have any comments or questions, please send me an email at wayne@waynesweekend.com or follow me on Facebook or Twitter.